The Dr. Rima Institute™
Rima E. Laibow, M.D.
Natural Solutions Center at the Valley of the Moon™
Other Services and Prices
Page Index
Introduction
Daily HCG Blog Reports
HCG Diet Program Link
HCG Diet Resources and Links
Support the Institute
The Continuation of this Blog, for the period after the initial program, is here:
http://www.drrima.net/HCG-Diet-Blog-Continued.php
Introduction to HCG
Diet Program & Blog
Dr. Rima Weight Chart - First 32 Days
The Natural Solutions Foundation, founded in 2004, is an international NGO (Non Governmental Organization) focused on food and health. We are active and registered in several countries and a not for profit 501(c)(3) tax exempt organization in the United States. We are a private interest foundation in Panama, where Dr. Rima E. Laibow, MD, our Medical Director has established the Natural Solutions Center at the Valley of the Moon. The Mission of the Foundation is to discover, develop, document, demonstrate and disseminate natural solutions regarding health and food to achieve and maintain a healthy self, community and world.
The Dr. Rima Institute at the Natural Solutions Center offers natural solutions for discerning individuals. Some of you have heard about the HCG Weight Control Program. We are pleased to offer that program at the Dr. Rima Institute. And the first person on the program is Dr. Rima herself. This pages introduces that program with a series of Video Blogs from Dr. Rima, as they happen...
On Line HCG Diet Brochure:
http://tinyurl.com/DrRimaHCGDiet
The Continuation of this Blog, for the period after the initial program, is here:
http://www.drrima.net/HCG-Diet-Blog-Continue.php
Index
Here are Dr. Rima's comments on the Blog entires you are about to experience with her:
-<<- I wanted to know whether HCG works and what the exerpience of a 500 calorie per day diet would be like. The theory sounds great, but I would not do something with a patient I did not understand fully. I decided to experiment on myself and the results are here for you to share with me in a day-by-day blog. Win, lose or draw, the results are here for all to share in and learn from.
If it works, we'll make it part of the offering of service at the Valley of the Moon's Natural Solutions Center in Panama. If not, we'll all know why. So join me in a 46 day odessy of metabolism alteration through hormone therapy and caloric control. ->>-
One issue we'd like to address "up front" - What is it like to receive an injection 6 days out of 7 for 23 or 46 days? The injection is a simple insertion through the skin; entering a vein is not required. The special HCG needle used is very thin and, like an acupuncture needle, can barely be felt. Below are photos of the HCG vials and of needle used, and a short verse from Dr. Rima about it...


This is the needle,
It can help you become thin.
Nothing to fear from this needle,
You don't even feel it goin in!



Sterile Vials For Each Person's HCG Dose


Dr. Rima's HCG Blog Reports
Index
Below are my blog entries about my HCG experience. They are organized by date and are recorded as they happened.
Yours in health and freedom,
Dr. Rima
Rima E. Laibow, MD
Medical Director
Natural Solutions Center
www.DrRima.net
---
Blog Index:
Day One
- 02.19 - The Experiment Begins!
Day Two
- 02.20 - Gorge Day
Day Three
- 02.21 - Second Gorge Day
Day Four
02.22 - No Hunger!
Day Five
- 02.23 - Lost 3 Pounds
Day Six
- 02.24 - Thirst But No Hunger
Day Seven
- 02.25 - Mild Hunger Sensations
Day Eight
- 02.26 - First Injection Free Day
Day Nine
- 02.27 - A Hiatus
Day Ten
- 02.28 - 7.6 Pounds Lost!
Day Eleven
- 03.01 - The Dreaded Plateau #1
Day Twelve
- 03.02 - More Weight Loss
Day Thirteen
- 03.03 - HCG in a Controlled Environment
Day Fourteen
- 03.04 - Doldrums...
Day Fifteen
- 03.05 - Water and Weight
Day Sixteen
- 03.06 - Hunger Stopped by Injection
Day Seventeen
- 03.07 - Another Plateau?
Day Eighteen
- 03.08 - Total Weight Loss So Far: 14.6 Pounds!
Day Nineteen
- 03.09 - Perseverence
Day Twenty
- 03.10 - Two Dress Sizes!
Day TwentyOne
- 03.11 - Onward and Downward
Day TwentyTwoe
- 03.12 - On the Town Without Protocol Food
Day TwentyThree
- 03.13 - Ending the 23 Day Cycle
Day TwentyFour
- 03.14 - 3 Dress Sizes! Cycle
Day TwentyFive
- 03.15 - Something New: Weight Gain?
Day TwentySix
- 03.16 - Happy Taste Buddies!
Day TwentySeven
- 03.17 - On Drinking lots of Water...
Day TwentyEight
- 03.19 - Dress Size 12!!!!!
Day TwentyNine
- 03.20 - Dress Size 10!!!!!
Day Thirty
- 03.21 - Thinking about the program
Day ThirtyOne
- 03.22 - Plateau... and Email Question Responses
Day ThirtyTwo
- 03.22 - Losing more and the Bar Graph
Day ThirtyThree
- 03.23 - Perseverance
Day ThirtyFour
- 03.24 - Link to Program Brochure... and more weight loss!
Day ThirtyFive
- 03.25 - Below 160!
Day ThirtySix
- 03.26 - Water and fat metabolism
Day ThirtySeven
- 03.27 - A bit'o'weight gain... why?
Day ThirtyEight
- 03.28 - Below 160 ... again!
Day ThirtyNine
- 03.29 - More lessons
Day Forty
- 03.30 - Feeling lighter!
Day FortyOne
- 03.31 - Finding clothes that still fit?
Day FortyTwo
- 04.01 - Lost a pound... no April Fool here!
Day FortyThree
- 04.02 - AND another pound!
Day FortyFour
- 04.03 - Consulting with Dr. Eisenstein on the next phase
Day FortyFive
- 04.04 - Some Conclusions
Day FortySix
- 04.05 - Completion and continuation . . .
The Continuation of this Blog, for the period after the initial program, is here:
http://www.drrima.net/HCG-Diet-Blog-Continue.php
Index
---
Fish Platter
Where your food will be grown when you eat at the Valley of the Moon Restaurant - on the HCG Diet or not!
Please note: All of the food photos were taken at the
Valley of the Moon
. Some of them are on the HCG Diet and some are on the regular menu. All of them are BeyondOrganic™ and delicious!
Day 1 Fat2Fit HCG Diet Blog
February 19, 2011
I want to share an experiment with you. I know what I WANT the results to be, but neither you nor I know what will actually happen. That, of course, is why it is an experiment. If it works, I will invite you to come down to the beautiful Valley of the Moon where our Natural Solutions Center and BeyondOrganic Restaurant will make your trip through the HCG Diet easy and pleasant. If it does not, I will let you know what did not work and why.
Here we go. I am doing the 46 day version of the program. There is also a shorter one, 23 days, but I need to lose a lot of weight so I am setting my sights on the long version. My goal? 40 lbs of unnecessary and unhealthy fat melting away. The results? TBD.
You may have heard about the HCG (Human Chorionic Gonadotrophin) Diet. It employs a very low calorie diet (500 calories!) and allows people to lose weight without feeling hungry. Common sense would tell you that anyone will lose weight if they stick to a 500/day calorie diet. Common sense will also tell you that the person will be miserable, loose not only stored fat but, if they stay on that starvation diet for long, lose muscle mass as well, vitally important structural fat, brain, heart and other organ tissue and, in general, do yourself a world of harm.
The HCG diet is fundamentally different, however, or I would not be using on myself. The reason that it is different is that taking HCG drops or, as I prefer, small injections daily, of this natural hormone found in every pregnant woman's body in the world, sends information (which is what hormones do) to the cells that store energy in the form of fat stores in your body (adipose tissue) that a metabolic 'rainy day' has arrived and it is now time to release the stored energy so that the body, which is only getting 500 calories in food, can safely and efficiently carry out its metabolic processes using that energy for its fuel.
Most interesting of all, your body will only digest away the fat deposits intended for that purpose and then, when your correct body weight (and shape!) has been reached, no matter how much more HCG you use, you will not lose additional weight! No muscle mass, no brain or other tissue damage, no loss of the vital fat pads that cushion your organs, make it possible for you to walk, support your eyes and so on.
That's the theory. I will tell you, on a daily basis, what the reality, at least for me, actually is.
Now I eat a very healthy diet. I am a post menopausal woman whose metabolism has slowed so I have a much harder time shedding pounds than I did when I was 40 years younger (I am 67 years old). I have a much easier time, however, acquiring them now than I did then! So I avoid most grain carbs, use no sugar in my beverages, never, never drink carbonated beverages, eat only organic food, get plenty of water and so on. BUT…. That is only true when I can control my intake. After 2004, when General Bert and I founded the Natural Solutions Foundation, we began to travel extensively to Codex meetings (really, really awful food) and to Africa, Asia and other places where we absolutely could not control our food intake. Airplanes, abjectly poor countries, highly contaminated cities and towns and the woefully mistaken belief in many very poor countries that if it comes from the US, what they just put on your plate MUST be good for you, that it is not only expensive, it is 'FOOD', not 'PHUDE'. Of course, we know that nothing could be further from the truth. Plastic cheese slices wrapped in cellophane and breakfast cereals made from brightly colored synthetic chemicals served with ultrapasturized milk and irradiated, GMO fruit is NOT food. But 4 years of that fare, for months on end, took its toll on my body.
I am 5' 4.5" and, as of today, currently weigh 178.5 lbs. That means that my BMI, or Body Mass Index, is 31.4. While I hate to admit it, I have to tell you that a BMI of 30 or more means that I am statistically classed as obese. That smarts. But I know that it's time to straighten up and fly LIGHT!
Here's how to calculate your BMI:
Multiply your weight in pounds times 703. Multiply your height in inches by your height in inches. Now divide (your weight x 703) by (your height in inches squared). The result is your BMI.
So I decided that today was the day. I carefully mixed the HCG I had ordered for myself so that the water I mixed the powdered hormone into did not foam and then added more water until 10,000 IU of HCG had been mixed with 28.5 ml of sterile water suitable for injection. I cleaned a small patch of my skin on my stomach with an alcohol pad and injected 0.5 ml of the mixture with a tiny needle attached to a disposable insulin syringe. No pain, no discomfort, no blood.
2/19/11 Measurements:
Bust: 43", Waist: 33", Hips: 46.5", Upper Thigh: 26.5", Biceps: 14.5"
Now, today, tomorrow and the next day are my "gorge" days. That means that in order to make sure that I will not feel hunger pangs, and that I will always feel satisfied with the amount of food going into my body and the amount of fat being used by my body, the instructions are to load up on all the things that I generally avoid: sugar, starch, butter, cake, pie, rice, etc., until I no longer want to eat and then to eat some more. People who do this will, of course, be likely to gain some weight, but, says the literature, it flows right off.
OK. Everything here at the Valley of the Moon BeyondOrganic™ Restaurant and Café is chemical free and delicious, so I began to binge. It was pretty weird for me since I am not a binge eater and don't like things very sweet. But binge I did. Our chef and sous chef helped me with fried chicken, potatoes, fresh organic cinnamon buns, the best cookies on the earth and chocolate espresso cake which you really cannot believe until you try it. And I ate it all!
UGH! One thing I did not do well, however, was drink enough water. I know that I need to drink several quarts per day, perhaps up to a gallon and a half but I was busy. My goal tomorrow, Day Number 2, Binge day number 2, is to drink 2 quarts of water before I have any solid food and keep on drinking all day.
Happily, there is no limit to the amount of black coffee I can drink and I love our Valley of the Moon Chemical Free coffee so life is good. Green tea in unlimited quantities is also on the plan, so both water (hydration) and coffee/tea (dehydration) will be going on. I'll try for more water than coffee/tea.
Blog Index
---
Day 2 Fat2Fit HCG Diet Blog
Shrimp
February 20, 2011
Today is my second "Gorge Day". That sounds like it should be wonderful, doesn't it? Any fattening, oily, sweet thing I want to eat, until I can't eat any more! What a great way to diet, right?
Wrong.
I don't eat like that, I don't really like very sweet things, I dislike oily things but the science says I have to do this part of the plan because I need to make sure my fat cells are chock full so that as I empty them, I will be fully supplied with the calories I need for the full program.
What that translates to is not feeling hunger pangs when I am on the lean portion of the diet instead of the fat one.
Last night I woke up completely nauseated. I had taken my first HCG shot and then gorged like crazy. I believe that the cause of my discomfort was the unaccustomed food, not the shot. We'll see what happens tonight after Gorge Day Number 2.
Today's weight: 181.4 lbs.
Blog Index
---
Day 3 Fat2Fit HCG Diet Blog
Blue Cheese Balsamic Salad
February 21, 2011
I am happy to report that although I completed my second "Gorge Day" yesterday I did not experience any nausea during the night or other discomfort. Of course, I was a bit more prudent in what I decided to eat so my body did not have quite so much unaccustomed "stuff" to deal with.
Because I was up most of the night before, after our 3 hour Dr. Rima Reports show and a 2 hour webinar on protecting and expatriating your IRA, 401 or other retirement funds while supporting the Valley of the Moon Project, I took a 1 hour nap. I believe that the issue was not fatigue due to anything related to the diet other than the sleepless night before.
I will, however, be alert to my energy levels over the coming days. So far, so very good.
Today's weight: 181.8 lbs. Note: I am amazed that all of the calories I have taken in over the "Gorge Days" so far have resulted in only 3.4 lbs of weight gain. Normally this type of indulgence would have resulted in at least 6 lbs, much of it water (which I retain easily).
I'm getting excited!
Blog Index
---
Day 4 Fat2Fit HCG Diet Blog
Chicken Salad
February 22, 2011
Weight: 182.4
Today was a different sort of a day, diet- wise. First of all, I finished my 3 day gorge protocol, much to my delight.
This morning, though, I was not happy, although not surprised, to find that my weight had gone up by 0.8 lbs. What did I expect, after all, with that much caloric intake? Well, actually, much more of a weight gain than I experienced! So, since I was warned in advance that I might gain as much as 4-6 lbs, I was glum, but unsurprised.
What happened next did, in fact, surprise me - a lot.
We lead a diverse and busy life here in Panama at the Valley of the Moon Eco Community Project, www.MyValleyoftheMoon.org and www.NaturalSolutionsFoundation.org.
Today we agreed to take Karma Singh, our English guest from Germany, and the owner of several really interesting technologies using the quantum energy field and Jose Morales, a professor of agriculture and a deeply knowledgeable BeyondOrganic(TM) farmer, along with Irma Castillo, our bilingual administrator, up to our BeyondOrganic coffee finca (farm) where we grow what everyone who has tasted it agrees IS the best coffee they have ever had in their lives! www.ValleyoftheMoonCoffee.org - there is a video there of Gen Bert discussing the coffee finca with some Panamanian green tourist officials.
We got busy, Karma installed some quantum technology in an experiment which we designed on the spot (we'll be posting that video shortly on the ValleyoftheMoonCoffee site) and then went to the agricultural town of Rio Sereno at the Costa Rican border to find out where the farms were which were losing 100% of their tomato crop because of a larval infestation. The Ministry of Agrticulture had annonced that they were going to release wasps that would control the infection as a biological control and we wanted to see the problem, have Karma act on it with his capacities and propose other natural solutions.
Of course, everyone was at lunch when we got there. The Ministry of Agriculture told us that they were not using wasps, despite what we had read in the biggest newspaper in Panama, La Prensa, but were, instead, using toxic chemical sprays as they always did.
Jose suggested that we take the back road down to where he has his BeyondOrganic farm, stop in to give Karma a chance to get the beneficial bacteria he is raising there to take home with him and propagate and then we could go back to Volcan and the Valley of the Moon.
So we did. But instead of getting home shortly after lunch, we waltzed into the Valley of the Moon at about 6 PM. I had had some black coffee early in the day and nothing else except filtered water in a glass bottle.
NOTHING. NADA.
Let me assure you that I have a robust appitite. I was, to my amazement, only vaguely aware that I had not eaten all day and did not feel the lack of it despite a rigorous and active day, physicallly, at least.
I looked at the beautifully prepared food that our Executive Chef, Gail Coba, had laid out for me, all carefully weighed and prepared "according to Hoyle" and realized that the 100 g (3 oz) of chicken was at least two times too much. But that was in ONE MEAL!
I ate about half the chicken, half the finest tomatoes and one fork full of the glorious canteloup which was prepared for me for one meal (there is another meal ready for me, but eating that makes no sense whatsoever to my body!)
In sum, while I am thirsty (and drinking copious amounts of water), I have eaten about 1.5 oz of chicken, the same amount of tomatoes, 1 bite of cantelope and, as advertised in the information about the HCG diet, have no desire to eat anything more. In fact, I know I am supposed to force myself to consume the full dietary allotment but I am very, very tempted to just skip it and have the half of tonight's meal as my lunch tomorrow.
How do I feel on Day 4, the first non gorge day?
Full, happy and amazed!
Blog Index
---
Day 5 Fat2Fit HCG Diet Blog
Carrot Salad
February 23, 2011
Three Pounds!! No hunger!!! Plenty of energy!!!! Delicious food in quantities too great to finish!!!!!
What's wrong with this picture? NOTHING! This amazing regimen is using a totally natural product to instruct my metabolism to do what it was supposed to do in the first place: use stored fat to provide energy.
The metabolic problem is that we are too good, many of us, at "saving for a rainy day". Instead of storing energy in fat cells and then releasing it again when the food intake goes down or the energy output goes up, we save it. All. And pack on more.
Result? New wardrobes, poor health, the disdain of others, discouragement and, sometimes, low self esteem, especially in children and women who cannot loose weight.
No need.
This experiment with HCG under medical supervision (mine) with carefully prepared clean food here at the Valley of the Moon Restaurant and Cafe is really not about my body alone. If it continues to be as successful as it is so far (and we are only on day 5 of 46, after all), we will be inviting others, both men and women to share this experience and the success. But this is an experiement.
Today my enthusiasm is boundless. I will keep you posted as we move along.
My only compaint, as a matter of fact is that there is way too much food for me to eat on my 500 calorie a day diet! No kidding.
Oh, yes, one other complaint: as I metabolize all that stored fat, my body needs lots of water so I am aware of being thirsty all the time from about 2 PM onward.
Blog Index
---
Day 6 Fat2Fit HCG Diet Blog
Shrimp Salad
February 24, 2011
YES!! (bend knees, smile intensely and pump arm vertically) This is about weight loss, good health and ease of compliance, right?
Well, I cannot tell you what day 38 or 24 or 41 might feel like, but I can tell you that, as a "Valley Girl" would say, "I mean, like" because I really mean that I like this!
Here's why:
When I went to bed last night (or rather, this morning at about 3 AM, feeling no fatigue at all, but thinking that I had an early morning so it would be prudent to stop playing my guitar and go to bed) I noticed a slight sensation of hunger, the first since starting on the HCG Diet on February 19.
I thought that was interesting and was also interested to see that when I drank yet another glass of water (I am thirsty all the time after about noon) they immidately disappeared.
I woke up this morning knowing that I had lost weight from yesterday. I have no idea how I knew, but I did. It was therefore with trepidation that I stepped on the scale: I was SO sure that if I had not lost weight, I was going to be at quite a loss about the whole thing.
So when I got on the scale I sort of looked with one eye. And there it was! 177.0, down 2.4 lbs from yesterday's 179.4.
To repeat, YES!!!
So I got dressed, came over to the Natural Solutions Center and began my day with abundant energy.
My first task, of course, is to inject myself with 175IU of HCG, the dose I have chosen for myself.
Just as I got the bottle out of the fridge and started to unwrap the 1 ml insulin syringe I am using for the injections, I once again felt mild, but discernable, hunger sensations. "Oh, Dear!", I thought to myself. "Is this the end of the HGC Diet Honeymoon?"
I proceeded to inject myself and, YES!!!, within about 30 seconds the sensation of hunger was gone.
About noon I decided to eat something. Gail Coba, the Executive Director of the Natural Solutions Foundation and the Executive Director of the Valley of the Moon BeyondOrganic Restaurant and Cafe, www.MyValleyoftheMoon.org, is experimenting with my 500 calorie diet while I experiment with my body.
She had made a lucious chicken fillet from our clean, BeyondOrganic chicken and oil-free sauteed Papricka Onions to smother it with. MMMMMM! BUT there was a problem. Using a kitchen scale she had weighed the ingredients and followed the protocol carefully before cooking them. But there was no way I could eat the entire portion. Delicious as it was, I could not consume the volume of the food.
Gail was sitting with me so when I told her that I was really amazed to see her laughing at me. She told me that I had eaten so little yesterday that she had only served half of the alloted chicken and veggies to me!
Being a person who loves all the sensory joys of food, having an appetite this tiny is a totally new experience.
Dessert? Fuggedaboutit! I had two small cubes of a stunningly good canteloup and gave the rest to Gail. WAY too much food.
YES!!!, I repeat, and YES!!!! again.
Blog Index
---
Day 7 Fat2Fit HCG Diet Blog
Shrimp
February 25, 2011
OK. I admit it. I messed up. Not with my food intake, but with my injection schedule. I had a VERY early morning meeting (I do not do morning well), went onto automatic pilot and gave myself my 0.5ml shot of HCG and continued on with my day. What I just realized, many hours later, was that today was a "no injection" day. Oops.
There are no injection days because it is important to make sure that, on the long protocol, which lasts 46 days, the body does not lose its sensitivity to the HCG, leading to a plateau from which it is difficult to climb down. On the shorter, 23 day protocol, it is not necessary to take these breaks so I have to conclude that there has been no harm done by skipping my day to skip the shot today.
So, tomorrow I will not take a shot and "catch up". Odd, though, that with these shots the "catch up" is to NOT take a shot while where vaccines are concerned, the "catch up" is to take lots and lots of dangerous, ineffective poisons into your body (or your child's). Hmmm. Let me see...... I think I'll catch up with less stuff and more health. How about you?
Back to the HCG Diet, though. I did feel mild hunger sensations three times today, which is different than what I was feeling previously. The first time they were dispelled by the shot within seconds, the second time was about 30 minutes before I had my first meal today (which was at 2 PM) and the second was about 5 hours later when I decided that they were telling me that it would be nice to eat something.]
But, as on each of the other days on this diet, I could not eat any more than the small portion served to me and really wanted less. I did not want dessert and certainly could not have eaten more than the 100 g (3 oz) or protein.
Gail, the Executive Chef at the Valley of the Moon Restaurant and Cafe, and Miguel, the Sous Chef are learning on me. They are experimenting like mad and, with the exception of one organic, but very rubbery chicken breast, the results have been astonishing.
For lunch, I had an absolutely lovely crab in cucumber cups with marinated cucumber slices (you are not supposed to mix veggies) and dinner was chicken breast with a delicious tomato-garlic ragout on top of it. (Well, that was what become of the chicken breast when I sent it back to the kitchen and said, "Please either fix this or make me something else. This is not up to your standard, nor mine." With a smile, the wonderful folks here repaired the damage and my meal was wonderful.
You know, if you search on the internet, you will find vigorous controversy over this diet. For example, this:
The HCG diet restricts caloric intake to 500 calories a day. That alone pretty much guarantees weight loss for anyone who can manage to stick with it. But people who take a placebo instead of hCG while restricting calories do just as well as those who take the hormone — and taking the hormone doesn't increase the likelihood that people will stay on the diet.
Some doctors will actually give injections of hCG, but many people take hCG pills, which are sold online — illegally, according to the FDA — for use in this diet. There's even less evidence for the effectiveness of pills than the injections, however, and it's impossible to know whether the pills actually even contain HCG.
There's also data to show that such starvation-level diets — with or without hormones — can cause dramatic rebounds in weight in the long run, making maintaining healthy weight much more difficult.
So why does this demonstrably ineffective and potentially harmful diet aid stay popular? In brief, it's the power of placebos and anecdotes.
Read more: http://healthland.time.com/2011/02/25/debunking-the-hcg-diet-myth-why-would-a-pregnancy-hormone-make-you-skinny/#ixzz1F1jX1elW.
But having experienced low calory regimens, I can tell you that I have never been so comfortable in my body on a diet in my life. I can also tell you that the level of energy, vitality, well-being and positivity I am feeling do not jibe with "it's just the caloric restriction".
So far, on day 7 of this regimen I feel wonderful, absolutely wonderful.
Oh, yes, my weight: today I weighed in at 176.2 lbs, 0.8 lbs lighter than yesterday.
My first success point is 175 lbs. I am hoping that I get there tomorrow, positive that I will the day after. No shot tomorrow.
Hunger? We'll see. Suppposedly not since I gorged obediantly.
Index
---
Day 8 Fat2Fit HCG Diet Blog
Chicken and Veggies
February 26, 2011
Today was yesterday, if you know what I mean.
I mistakenly gave myself a shot of HCG yesterday so I did not take one today (the protocol calls for skipping certain days). Frankly, I was really concerned about experiencing strong hunger pangs/pains although everything I have read says that does not happen on the no shot days. It's great to read that it's not a problem, but as a physician, a scientist and a life-long, card carrying eater, I was really worried what a 500 calorie day was going to feel like with nothing to bump up my fat digestion.
Not to worry.
I followed the same regimen (black coffee in the AM, 250 calorie lunch and then a 250 calorie dinner and, lo and behold, just when I was starting to feel the slightest stirrings of hunger, the waitress at the Valley of the Moon Restaurant came in to tell me that dinner was ready. That was about 5:30 PM.
Lunch was a wonderful large soup with a delicious chicken broth and spring onions, carrots and other veggies with small pieces of chicken. Yummy, but a whole lot more than I needed to feel full!
But dinner! Ah, dinner was something else again. It came in two courses and I will tell you right now that I could not finish it all.
We started with a light soup with Japanese organic yam noodles (zero calories, zero carbs, zero chemicals!!!!) upon which floated fresh deep sea Pacific shrimp. We know the fisherman and he owns his own boat.
Astonishing! No farmed shrimp EVER taste like this. Then, because one of the rules of the HCG Diet is that you do not mix protein sources at the same meal, the main course was also shrimp prepared with a totally different set of spices and flavors, as you would expect, on a bed of steamed garden fresh spinach - OUR BeyondOrgnaic, BioDynamic garden.
Crab Salad in Cucumber Cups
NO WAY to eat it all. So I finished my second meal replete, satisfied and delighted with the quality and experience of yet another flavorsome meal.
You know, I have a very dear friend who said that he and his wife, both of whom need to lose some serious weight, were so inspired by my success that they wanted to try it at home. I told him that they have a complex household with no real ability to control the food in the house, on the table, in the kitchen or in the fridge and therefore I urged them not to start this diet: controlling the food is absolutely essential to the success of the
As you can hear from my rapture about the meals, a 500 calorie diet does not have to be bland, boring or aesthetically unpleasant. But it does have to be carefully constructed, following several simple, but essential, rules.
Here at the Valley of the Moon Restaurant and Cafe in Panama we have dedicated gourmet organic cooks who are determined to help me make this work. I owe a great deal to them.
Today, I owe my current weight to them: my scale this morning told me that I weighed 174.8 lbs.
Total weight lost so far: 7.6 lbs. I began losing weight on Day 5 and today is Day 8.
Not too shabby, as they say!
Please Note: FDA raises a red flag when any nutrient product claims to produce weight loss of more than 3 lbs per week. We are not making any nutrient weight loss claim in this blog: we are sharing Dr. Rima's personal experience in a win, lose or draw manner: whatever the results, you will find out about them as soon as Dr. Rima does. This information is presented in the spirit of a clinical case study which others may find valuable. Injected Human Chorionic Gonadatrophin (HCG) is not being offered as a nutrient. However, it is a naturally ocurring substance found in human beings whose administration results in supporting a metabolic status that allows rapid weight loss. Rima is a licensed physician and is therefore empowered to prescribe, administer and supervise the use of this substance, which is what she is doing for herself.
---
Blog Day 9 - February 27, 2011
Day 10 Fat2Fit HCG Diet Blog
Chicken Dish
February 28, 2011
My weight this morning: 173.0 lbs
Total Weight Loss: 9.4 lbs
Psychological and physical status: superb
Energy Level: fantastic
Hunger: Slight, resolved with HCG shot in AM within seconds of shot
Problems: None
END
Index
---
Day 11 Fat2Fit HCG Diet Blog
Crab Salad
---
March 1, 2011
My weight this morning: 172.8 lbs
Total Weight Loss: 9.6 lbs
OH NO!!! The Dreaded Plateau
What Shall I do? Where Shall I go?
I weighed every bit that I put on my plate
On the scale I see one seven two point eight
It's true that it's down from one seven three
But two tenths of a pound doesn't make it for me.
The fix reccommeded is six apples today.
Organic apples in Panama? Believe me! NO WAY!
"Tree Tomato", instead, will just have to do
So "Onward and Downward!" under one seven two!
"Tree Tomatos"
"Tree Tomato" Tree
---
Day 12 Fat2Fit HCG Diet Blog
Tomatillo Drink
March 2, 2011 Weight: 170.6 lbs Total weight loss: 11.8 lbs
I leaped off the plateau of yesterday, I am delighted to report.
Knowing that I could expect one or more plateaus was helpful, of course, but I found it impossible not to be aprehensive when I got onto the scale this morning. I had continued with the regimen: lots of water, stay on the balanced, 500 cal per day diet, take the shot, keep the faith.
But I am a real, live human being just like anyone else so I was aprehensive. I lloked down and there it was! 170.6 lbs, down from yesterday's stuck point of 172.8 lbs!
That's a 2.2 lb loss!
Now I will tell you that I woke up with a slight headache (virtually unheard of for me) and a slight feeling of discomfort in my liver (also unheard of).
That makes sense, of course, since fat soluble toxins are sequestered in fat cells so that then the contents of the fat cells is emptied out for the body to use as an energy source (which is, after all, why the body stores fat at all), the toxins are going to be processed by the liver.
I took some Silymarin, a nutrient which suppoerts liver function, and proceeded with my day. I will make sure to continue to take it.
The liver is a vulnerable organ for me because of some serious toxic exposure about 4 years ago so the symptoms I had this morning fit in with what I know about my body, thus not alarming me, but signaling that support for a vulnerable part of the system was in order.
My BMI is now 29.16 putting me in the Overweight Category. I started at 31.4 in the Obese Category... progress!
Total weight loss? 11.8 lbs.
Subjective sense (scale of 1 worst - 10 max)? 14!
Index
---
Day 13 Fat2Fit HCG Diet Blog
Chicken with Rose Petals
March 3, 2011
My weight this morning was 170.0. There is good news and bad news. The good news is that it was 170.0, where I have not been, weight wise, "Since," as Gen. Bert said, "Christ was a corporal!"
The bad news is that is "only" 0.6 lbs less than yesterday. Of course, yesterday's weight of 170.6 was an astonishing 2.2 lbs less than the day before.
So I really quite spoiled. My average weight loss to date is 1.38 lbs per day. Conventional wisdom, of course, teaches us that rapid weight loss is a bad thing and, until I began to research this diet, I believed that to be generally true.
Now, I would say that rapid weight loss
in a controlled environment
is not only a good thing, but pretty near a miracle for those whose weight is problematic to them. BUT the controlled environment thing is a huge issue.
You can try to do this diet by yourself and lots of people have tried. But, then again, many people have gotten away with smoking all their lives and never developed emphysema or cancer. It is a matter of playing the odds, after all.
This diet uses a hormone to change your body's metabolism in profound ways. It changes the odds. Since the hormone is a safe one, produced naturallly by the human body, it has a place, in my mind, in human biology. But hormones are amazingly impactful molecules: every hormone has an effect on EVERY cell of your body.
We like to think of single molecule, single effect realities: that is, after all, what allopathic medicine is build upon.
The fact that the human body is NOT built that way is merely an inconvenience to the allopathic system, and thus, because of this disconnect from reality, we have symptoms suppressed with molecules (drugs) which then cause other symptoms which are profitably, but idiotically, suppressed with more molecules, until the patient dies from the drugs, not the disease (a horrifyingly common results of allopathic treatments, propaganda to the contrary not at all withstanding).
I have great respect for the efficiency of mother nature and the considerabler effort to which she goes to conserve energy.
For example, although most of us know about serotonin as a neurotransmitter, fewer of us know that there are more serotonin receptors in the digestive system than in the brain and that the membrane which covers our bones, called the periostium, is rich in these receptors, too.
So when you decrease the uptake of the molecule serotonin, what do you do to the gut and the bones? You screw up their metabolism and, for example, give 8 year olds on SSRIs osteoporosis!
I know quite a bit about hormone useage and therefore I know enough to be very, very careful. I am having a wonderful time on this diet because I am losing weight, have abundant energy and vigor and no problems.
But if a person who had unstable blood sugar, or other metabolic issues, or were very toxic, etc., were doing this protocol (and eating the WONDERFUL food here) and got into some trouble, wouldn't that person want a doctor on board? I sure would.
What about the wonderful food? Suppose you are doing the HCG Diet and eating the right number of calories, but your food is devitalized, standard American food, full of toxins and chemicals.
Just how good do you think you are going to feel when your liver, already dealing with the toxins that are being released from your fat cells, has to deal with more? And just how good do you think you will feel if you are eating food grown in devitalized and demineralalized soil, like just about all commercial US food?
So this diet requires carefull planning, attention to details like "Where does my food come from? What's in my food?" and a medical partner. If you ARE a doctor and you understand nutritional medicine and nutrition, great! If not, please consider your partners in this wonderful enterprise of losing weight and regaining your health, if weight and metabolic issues are ones you are struggling with.
Oh, by the way, on the blood sugar issue, there is a good deal of information to suggest that people with Type I diabetes may have significant improvement of their diabetes with reduced insulin needs. It goes without saying that for Type II diabetics that losing weight WILL improve your condition.
Natural approaches to health nourish normal structure and function, allowing us to determine how normal function is expressed. In the case of the HCG diet, the natural hormone allows the body to get along quite well on a very restricted diet. This results in rapid weight loss which can be sustained in a controlled environment.
So far, I am increasingly impressed with the HCG diet. If these results continue as we head toward the minimal 23 day program, or the more expansive 43 day program (will I even need to continue the diet that long?) this experiment will help me understand how we can make this program available here at the Natural Solutions Center to interested "medical tourists" -- good BeyondOrganic food in a beautiful environment, in a controlled environment that allows success!
Now that's why we call what we do here Advanced Health Care!
---
Day 14 Fat2Fit HCG Diet Blog
Chocolate Cake Coba
March 4, 2011
Dismall dropping doldrums, of dissapointed, damaged desire!
Oh, that this too, too solid flesh might melt, thaw, resolve into a dew!
Yes, there was some weight loss, but it was 0.2 lbs.
On the bright side, the day after this happened before (Day 10, March 1, 2011), I dropped 2.2 lbs the next day.
Is this a pattern? I do not know. There is only one point in this data set and that is not enough to draw a line.
We shall see, we shall see!
Meanwhile, I continue to stay on the diet. I have no idea if it related or not, but my mood, usually positive and focused, is, well, what I said at the beginning, disappointed and, I must admit, unaccustomedly grim.
Am I overreacting and responding to the diet? Of course it is hard to tell from the inside, but perhaps, perhaps.
I will let you know if my mood is due to my diet or my reality --- Or both.
Index
---
Day 15 Fat2Fit HCG Diet Blog
Crab Salad
March 4, 2011
I have a question to ask of you and would appreciate your reply to me at releyes2@gmail.com, my personal email. Please include HCG Diet in the email.
Here is the question: Reading the results of this protocol and my experience with it, let's assume that these results continue throught the entire protocol. Whether you are interested in the protocol for yourself or not, whether you would commit the funds to it or not, what do YOU feel that you would be willing to pay for a 23 day program (and then for a 46 day program) which included:
1. All food necessary for the duration of the program prepared from totally BeyondOrganic food, served in a restaurant or available to take out.
2. A daily visit with me, Dr. Rima, and administration of the HCG by me, weight check, etc.
---
Well, there is good news and bad news. The proportion is about 90 good to 10% bad.
First, the bad news: I have a long standing marginal water retention proclivity: under various conditions, like many women, I tend to hang on to the water in my body and get some extra pounds through extra water. For example, if I have sushi, one of my favorite meals in the whole wide world, the amount of salt in the soy sauce will lead to a weight gain of 2-3 lbs the next day. That makes sense, of course, because 1 gram of salt "holds" 9 gms of water. So if the soy sauce has, as is typical 1 Tablespoon has 914 g of salt, that means that it contributes 8226 grams of water to my body until my kidneys, lungs and skin get rid of it.
8226 g equals 278 oz which equals 17.43 lbs. (1 ounce = 29.5 g). Of course, I don't eat a tablespoon of soy sauce with my sushi, but you can see that by eating only 118 grams of soy sauce I would retain that 3 lbs.
So, knowing my body well I know that my weight loss today, 0.8 lbs, is nice, but not what it would be if I were not holding water.
Now, because so much fat is being metabolized (which means that I am in the metabolic state called "ketosis"), I need a lot of water and have been happy to drink about 3 gallons of it per day.
According to the literature on the HCG Diet, there is no way to retain water. If I believed the literature, however, I would be using drugs to practice medicine and psychiatry. That is why I am performing this experiment on myself, an n = 1 experiment.
So here is what I am doing about it: first of all, today is a no shot day. So I am giving my body a chance to take some time off from the hormonal drive we have been taking together. That was scheduled, but I would have adjusted my injection schedule this way anyway.
Second, I have changed my diet to a juice fast: all raw, all organic and all ground up in the blender to make all of the enzymes available to me in the food.
Today I am staying with the 500 calorie limit, of course, and am getting my protein from nuts instead of meat, but I am using things to support my kidney function like tree tomatos (tomatillos), parsley and other veggies which support kidney function, provide fiber and nutrients. Since all of our food here at the Valley of the Moon Restaurant and Cafe is BeyondOrganic(TM), I am detoxing at the same time.
I just had the first green drink of the day and MY OH MY! Was it delicious!!!!
Now the good news: Weight First:
Today's weight loss: .8 lbs (remember I said that I was holding water so the numbers are less impressive than they would be otherwise).
Total weight lost: 13.4 lbs.
Measurements:
Measurement Day 1 (2/19/11) Day 15 (3/5/11)
Bust 43" 40.75" -2.25"
Waist 33.5 32 -1.5"
Hips 46.5 43.5 -3"
Belly 49.5 45 -4.5"
Inner Thigh 26.5 25.5 -1
Bicpes (Left) 14.5 13.75 -0.75
BMI 31.4 (Obese) 28.6 (Overweight) -2.8
Total inches lost: 13.
How's that for progress?
Now for the people who say that a 500 calorie diet is unsustainable, they are right IF there is no HCG on board.
On the HCG diet the body is on a diet with as many calories as it
needs
because while you are getting 500 calories from your diet, you are getting the rest from your "rainy day" backup, unlocked through the administration of a natural hormone.
Works for me! Oh, YES it does! See above!
Index
---
Shrimp
---
Day 16 Fat2Fit HCG Diet Blog
March 6, 2011
Today was an interesting day. My weight this AM was 0.2 lbs up from yesterday's diet-low of 169.0.
Terror on the Streets! OH! MY! GOD! Have I become insensitive to the hormone so this wonderful diet is no longer going to work? Have I retained so much water that I am holding more salt than I lost ounces of fat? Is my scale wrong? Am I doing something wrong that I don't know about because I did not do enough research? Will Nibaru destroy the earth? Will Batman and Robin sucumb to the evil forces arrayed against them? Will the sun explode?
You know the feeling.
Well, I got myself back in balance by doing a couple of deep diaphragmatic breaths and starting to explain what was going on to Gen. Bert. The disaster shrank back into proportion as I described the situation.
You know that feeling, too, I'll bet.
Yesterday was a non-injection day (spaced to prevent becoming reistent to the hormone). I resumed the injection routine and was particularly careful with my diet today.
I actually did feel hunger twice today: once as I prepared the injection and, as before, the sensation disappeared within seconds of the injection. Now that is pretty cool.
The second time was when a patient visit delayed my normal dinner hour by about an hour. I noted that I was slightly hungry around the time that we usually have dinner here, but drank some tea and noted that the sensation disappeared. Not too bad for 16 days of dieting. These sensations are mild and not at all disconcerting. But they certainly are rare.
Of course, I cannot predict what the scale will show tomorrow, but I expect good things!
Onward and downward!
Index
---
Day 17 Fat2Fit HCG Diet Blog
Cut Tree Tomato
---
March 7, 2011
Plateau for sure.
I gained 0.2 lbs yesterday and the same today, taking my weight to 169.4 lbs asnd my total weight loss down to 13 lbs. Considering everything, however, that really is not bad. I am still averaging 1 lb per day for the days after the "gorge" period.
So, what to do, what to do?
In North America or Europe, I would follow the traditional wisdom of how to handle a plateau and have an "Appler day", eating 6 apples for the day.
Now, as a physician and scientist, that makes no sense whatsoever to me. Apples are rich in carbohydrates, so how could that make this diet work better? No clue, but the empirical experience is that it does.
We have apples here in Panama. Every one that I am familiar with is imported from the US and is loaded with chemicals that I would never put in my body voluntarily. So, while it would be nice to do an apple apple day, clearly I need to do something else here.
Tree tomatos, also know as "tamatillos" are just the ticket. We have them growing on a tree in our back yard which we KNOW has received no chemical input. It just so happens that they are in season right this minute and I love them. Containing little or no fat, they are permitted on this diet. Here is what one site says about them: This food is low in Saturated Fat, and very low in Cholesterol and Sodium. It is also a good source of Iron, Magnesium, Phosphorus and Copper, and a very good source of Dietary Fiber, Vitamin C, Vitamin K, Niacin, Potassium and Manganese and a serving has about 11 calories.
So I decided that I would do a "Tomatillo Apple day".
I told our wonderful and supportive kitchen staff here at the Valley of the Moon BeyondOrganic Restaurant and Cafe that I wanted a tree tomato for breakfast - at about 3 PM, when I felt the first stirrings of hunger. They just stared at me for a minuted and then handed me one. I scopped it out from the skin and relished the entire fruit. After eating one medium sized fruit, I, quite literally, was full. YES!, I say, and YES! again!
My body is getting fed by its stored fat and my appetite is so modest that I am having trouble believing it.
For dinner, while Gen. Bert had what I can only describe as spectacular baked spicy chicken wings with blue cheese sauce, celery and carrot sticks, home made barbeque sauce, gluten free rolls and gluten free chocolate chip cookies, accompanied by a smoothie made with fresh tree tomatos and our very own clean milk yogurt, I had --- ready? 3 tree tomatos and a glass of tree tomato juice made from another 2.
I was delighted by the smell of those wings but, although I LOVE chicken wings, I was not even slightly tempted by them! Now that is cause for wonderment. Following my dinner of tree tomatoes with a little added mint and cinnemon flavor in the juice as an experiment (YUMMMMMM!), I was full. And satisfied.
Would you like to hear something else astonishing? I ate the first half of the first fruit and realized that I was no longer at all hungry! I ate the rest because I knew that I needed the fiber and the minerals, but it was out of a sense of pleasant duty, not requirement.
I have, of course, continued to drink the large amounts of water that my body is telling me it wants.
Did we break the plateau? Will this be an easy transition back to considerable and successful weight loss? Who Knows?
Only the Shadow Knows, as the radio program of my youth used to tell us... and he's not telling!
More to follow.
PS: We are talking about a 66 calorie intake. I feel fine, full, happy and alert. This is not at all what I believed was possible. Please note that such low calorie intakes are tremendously unhealthy by themselves and, without the metabolic drive to digest stored fat provided by the HCG as used in the HCG Diet, this protocol could result in serious harm to persons unwise enough to starve themselves in the absence of an apppropriate, safe metabolic driver. REL
Index
---
Day 18 Fat2Fit HCG Diet Blog
Dr. Rima's Prepared Lunch
---
March 8, 2011
Falling off a log is supposedly easy. Falling off a cliff is supposedly easy, too, but with disastrous consequences. Falling off a plateau takes work but is, ultimately, really, really pleasant.
That's what happened today. I went on the Panamanian equivalent of an "Apple Day" to break the weight gain/stagnation I was experiencing. And it worked.
Today's weight loss was 1.6 lbs, taking me down to 167.8 lbs. Considering that I started at 182.4 at the end of my gorge days, that means a total loss of 14.6 lbs in 14 days.
Not too shabby.
Today, because we were working so hard this morning, I took my shot of HCG about 1.5 hours late. I was concerned that this deviation from my routine might make me uncomfortable because I would be hungry. And, at 1:30 PM I was quite hungry. So I went to the refrigerator where the Valley of the Moon Restaurant staff had left my food and Bert's (they are off on Tuesday) and found a beautiful crab salad wrapped and labeled. I ate it with relish because of the lovely taste, but by the time I was half way through, I really could have stopped without difficulty.
I ate my curried chicken and veggies and found that although I really enjoy veggies, I could only eat about a third of them because I was so full. I did have one snack today: I ate a tree tomato because I was remembering their lovely taste. I do not think that the 11 calories threw me off! One other thing: I am taking supplements, but very few during my time on the HCG Diet. All fat soluble nutrients are stored in the fat I am digesting and therefore I am getting them for my use as the fat cells empty. The water soluble vitamins, A, D, E and K are important and my diet and the Vitamin D supplement I take (10,000 IU) supply them. I also take 5 mg of Biotin and a silymarin capsule daily. Although ordinarily I take far, far more than that, my body seems very happy and, you know, if it's happy right now, I am happy, too.
---
Day 19 Fat2Fit HCG Diet Blog
Dr. Rima's Dinner
---
March 9, 2011
Live and learn. One thing I have learned on this diet is that before I get on the scale in the morning I can estimate how much weight I will find that I have lost. How? Because the HCG Diet requires the intake of a great deal of water in order to carry out of your body the breakdown products of the metabolic process which the diet stimulates and modulates - the digestion of your stored fat.
So, now that I have been doing this for a while, I know that if the volume of first morning urine is considerable, I will see a satisfying amount of weight loss on the scale and, if not, not.
I was therefore not surprised this morning when I saw that, despite a totally non-cheat day of being on the diet yesterday (my first day off the dreaded Weight Gain Plateau), I lost a measly 0.2 lbs. True, it was not a gain and true again, I have not been at this low a weight since they built the Pyramids (or so it seems), but still, given the effort it was an unwelcome confirmation of what I already knew that I would see.
But there are some other sides to this: first of all, the loss of 14.8 lbs in 15 days is not bad. Second, the catabolism (break down) of that much materila requires adjustment by the body and I am pleased (on the rational side of my brain) that my body is equilibrating, rather than doing things it is not yet ready for. Third, I am overjoyed that I decided to do this protocol on myself first so that when I am guiding others, I will know what they are experiencing and have a degree of first hand empathy which book learnin' simply cannot give one.
Dealing with weight is not only physical, it is profoundly emotional. I am being candid about my responses to this protocol because we are not machines and metabolism is only a small part of weight management. Feelings and meaning and history and self-regard are the real matrix upon which this tapestry is woven.
I am actually grateful that the course is not a smooth pound-a-day downward glide because I would then only be able to guess at what it feels like for the person who, like me, is following the protocol meticulously but still hits a plateau, still looses less than yesterday and still perseveres.
I am quite sure that the Valley of the Moon should offer the HCG Diet Protocol as part of its offerings and I am equally sure that, because of my experience, I will be able to be a better guide for the people who come here for this program than I would have been if I had not partaken of the meal, so to speak.
Onward and downward
---
Day 20 Fat2Fit HCG Diet Blog
Lobster Dinner!
---
March 10, 2011
OK, so here is the deal so far: I lose a lot, I lose a little, I lose a lot, I lose a little, I hit a plateau, I lose a lot, I lose a little. On average, at day 20, just 3 days from half way through the long protocol (and three days away from the end of the program if I were doing the short protocol), I have averaged more than a pound a day. I started loosing at 182.4 lbs and am now at 165.8 lbs an amazing 16 days later, having lost 16.6 lbs in total. That averages out to 1.0375 lbs per day. And that includes two scary plateau days when I gained 0.2 lbs each day despite strict adherence to the diet.
Are you ready for this one? Since starting this diet I have gone down two dress sizes! Sad to say, I started out a Size 20 (that is hard to admit to myself, by the way!) and am now a size 16. My goal is to return to my previous dress size of a 10-12.
We shall see. I am actually anticipating that I will finish the HCG diet protocol at 140 lbs, do the 3 week stabilization and wait the required period of time before going on a shorter version of the HCG Diet to lose the additional 10 to 15 lbs. Once I reach that weight on the second protocol, I will stop injecting the HCG because one of the wonderful things about the HCG Diet is that you only loose the excess fat, not the necessary fat so more HCG does not good (no harm, but no more good).
Now is that cool, or what!
Onward and downward!
Index
---
Day 21 Fat2Fit HCG Diet Blog
Curried Chicken Lunch
---
March 11, 2011
Live and learn. What I have learned today, when I neither lost nor gained, is the sub cutaneous shots do not work for me. Perhaps they work for other people, but yesterday I experimented with a subcutaneous placement for the injected HCG. Same amount, same mixture, but different route of administration. The result is, of course, not conclusive since I have only one point, and you cannot make a line out of a single point.
However, the response of my body to the sequestered HCG rather than the deeper admnistration (both painless, by the way) is suggestive enough that I will not be doing THAT again since, unlike a disinterested scientist, I am very, very interested in the outcome.
So, you can well imagine that after that surprise on the scale this morning all 22 remaining shots will be NOT be given subcutaneously!
Onward and downward,
---
Day 22 Fat2Fit HCG Diet Blog
Crepe with Local Blackberry Sauce
---
March 12, 2011
I am learning a great deal about the HCG Diet. For example, yesterday I was unexpectedly detained in David (the Provincial Capital) and was HUNGRY! There is no way that I was going to a restauarant there if I intended to stay on the diet. My Spanish is not nearly strong enough to get across what I would like to eat in any of the places that we like to go there.
Instead, we went to a local supermarket and I browsed the aisles. They sell, in the main, the junk which comprises the SAD, o Standard American Diet, or the Latin countries equivalent - stuff which I would not put in my body by choice!
So I went to the veggie department. Now, have to tell you that unless you grow it yourself or get it from a trusted source, veggies are heavily contaminated. However, I was, as afore mentioned, HUNGRY (rare on this diet but I had not eaten for a long, long time) so I looked for the least toxic veggie I could find that met my dietary requirements. Cauliflower seemed a winner so I bought a 250 g (1/2 lb) baby one. By the time I stripped off the outside leaves, it left we with about .4 lb cauliflower to eat. At 25 calories per 100 g, and 30 g/oz that would be about 192 g or a little under 50 calories.
It was crunchy, satisfying and conformed to the HCG Diet requriements. I was, truly, a happy camper. Then we got back to the restaurant and I had a beautiful corvina (a Pacific white fish) in garlic curry sauce and spinach diner.
All good, except for one thing: while we were in David I drank far too little water since I did not expect to be there that long and I did not take enough water in glass bottles with me. No, I do not drink plastic bottled water except in dire emergencies.
Well, this morning, what to my wondering eyes should appear but a weight loss of merely 0.4 lbs. Now, that is better than yesterday, but I am getting the idea that small deviations from the protocol have big effects, or rather, small weight losses as a consequence.
So my total weight loss to date is 17.0 lbs. Not bad at all for this length of time. Not bad at all.
Onward and downward,
---
Day 23 Fat2Fit HCG Diet Blog
Chaiyote Indigenous Fruit
---
March 13, 2011
Short and Sweet: Less is definitely more! I lost 1.4 lbs overnight bringing my total weight loss to 18.4 lbs. I have felt mild hunger sensations about 6 times in 23 days, strong hunger sensations twice. The first was calmed by 4 oz of cauliflower, the second by a meal. Not bad.
If I were doing the 23 day protocol, I would have lost about 3 lbs more, I estimate, because I would not have skipped the HCG shot on days 8, 15 and 22.
But I am doing the long protocol and following the regimen to prevent becoming resistant to the HCG.
I am so confident and comfortable with the protocol that I am ready to help people through it with a program we are developing for the HCG Diet here at the Natural Solutions Center in Volcan, Panama.
More to follow on that option.
By the way, my BMI, which started at 31.4, Obese, is now27.71, Overweight (I used http://www.bmi-calculator.net)
Onward and Downward,
Dr. Rima
Special Note:
If I were doing a 23 day protocol, I would be done today. But success is such a strong motivator that I am having no difficulty contemplating the same amount of time to continue the weight loss. Today's big news? I am down another dress size, from Size 20 to size 14!
P.S. If you are interested in knowing more about the HCG Diet here at the Valley of the Moon, write to me with HCG Diet as the subject at releyes2@gmail.com. I am considering starting a 23 and a 46 day program on July 11 so that people can come at a convenient time. The 46 day folks, male and female, by the way, would continue when the 23 day folks leave and a new 23 day program "class" comes in to begin their program as well.
We'll have excursions, music, yoga, etc. Let me know if you are interested and we'll plan based on your responses. REL
Index
---
Day 24 Fat2Fit HCG Diet Blog
---
3 Dress Sizes
March 14, 2011
Today's loss: only 0.6 lbs bringing my total loss to 19.0 lbs. Not too bad. But I learned two things yesterday: the first is that eating just veggies without protein for a meal is a bad idea because that is how you get to feel really, really hungry and that is NOT part of the HCG Diet protocol! You can do a vegetarian version of this diet if you want to, but you MUST have protein to shore up your blood sugar and regulate your energy. Hunger tells you that the energy available to your body is deficient. That is not what we want. You get no points for suffering.
And the second thing that I learned yesterday is that eating more of the protein at dinner (4 oz) and less earlier in the day (2 oz in the middle of the afternoon because I was SO very hungry) is not conducive to weight loss, either. It looks to me like my weight loss was decreased since, based on my body signalssthe pattern of loss that has become established, I expected to lose more today. Again, only a single point, not a line, but I will watch that closely.
Meanwhile, you can see in the photo above what my now-too-big pants look like on me!
Clothing hanging? Back to earlier versions of my wardrobe? Oh, Dear! What can I wear today that is not too big? YES!!!!
Onward and downward...
Index
---
---
Day 25 Fat2Fit HCG Diet Blog
Egg Salad from our own Chicken Coop, with lettuce and tomato from the Greenhouse!
March 15, 2011
Yesterday I tried something new. I have completed the 23 day span of a short HCG Diet protocol (although there were 3 injection free days during it which would not have happened during the actual 23 day protocol. I am completing the long protocol, the 46 day program, so it is necessary to skip injection days once a week.
Yesterday I gave myself an experimental dose of a metabolism-stimulating natural product which is the precursor to the fuel used by our body's power plants, the mitochondria of each cell. In addition to the fuel (not a drug - a totally natural substance), the dose contains preservative-free B vitamins, including the important version of B12 called "methylcobalamine".
You see, I am learning while losing (or the other way around!) and I want to know if this additional component would be helpful for my patients. There are people for whom the 23 day HCG diet protocol, where you can expect to lose 20-23 lbs will work just fine. There are others for whom the 46 day HCG Diet protocol, losing 40 or more lbs will be a wonderful thing. But there are other folks for whom an even more significant weight loss is a necessity for health and for comfort.
So I wanted ot know what would happen if I added this natural product to the regimen. One of the temporary side effects of the product is water retention. We have already talked about the fact that water is heavy: a pint weighs a pound. 1 gram of salt holds 9 grams of water. Even subtle water retention can lead to significant weight. I suspect that is where we are today because I have not changed my diet (I NEVER cheat - not even a tiny bit; the staff here won't allow it!) but I
gained
0.2 lbs today! Is it a plateau? Did I actually lose weight but the new product caused water retention which will correct itself? I do not know.
My total weight loss, however, with the 0.2 lbs I gained today, has dropped to a "mere"18.8 lbs. I will be watching the scale with bated breath. See you back at the Dr. Rima HCG Diet blog tomorrow to see where we are!
Onward and Downward!
Index
---
Day 26 Fat2Fit HCG Diet Blog
Today's lunch: crab salad dressed with Sour Orange, a Panamanian equivalent for lemons and limes - they grow here at the Valley of the Moon!
---
March 16, 2011
[Dr. Rima's Taste Buds have taken over the Blog today. They like it if you say "Hi! Buds!" to them.]
Greeting from Dr. Rima's Taste Buds. We are all very, very happy. We really were quite concerned about our locomotion and supply system (known to you as Dr. Rima) because we received word that she was cutting us down to just two tiny meals a day consisting of 250 calories each for a total intake of 500 calories a day. We anticipated low taste, high nutrient misery for her 46 day experiment and were prepared for the absolute worst. We, however, are delighted to reprort that, with 20 days to go, we have no complaints. Now, Stomach might, given that she is only getting 500 calories a day to work on, but the reports from below are that she, too, is delighted. She is not getting chemical potions or destructive chemicals (none of us expected that, though, since we've been Dr. Rima for a long time) but she is getting the fiber, hydration and nutrients that she and her buddies, Intestine Jr. and Intestine Sr. need to be happy).

Our concern is the taste. We are, after all, Taste Buds. That all important factor has, quite literally, never been better! Oh yes, Dr. Rima recalls fondly the Korean Barbeques, Sushi, Indian food, Morroccan food, Ehtiopean food, all sorts of Chinese Food, Mongolian Food - ah! She does love her gourmet food! We could go on and on and on!

But here at the Valley of the Moon BeyondOrganic Restautrant we are eating gourmet preparations which make all us Taste Buds really, really happy, happy, happy! And we've just gotten word through the neural net grapevine that Dr. Rima's fat cells are emptying out obidiently and smoothly so that soon, soon, we can go back to an unrestricted diet of world cuisines! Mmmmm... Taste-satiated Buds are happy Buds and all the food we've had during this diet has been tastey to the max!
Dr. Rima back at the controls again! Good to know the Buds are all happy! I have to admit that my initial culinary scepticism, bordering, if truth be told, on
terror
, was unfounded. I am happy along with my Taste Buds!
That's a good thing, you know, because if "It Aint Taste Buds Happy, Aint NOBODY Happy!" -- well that's what the Taste Buds tell me!
Today's Weight: 162.6. Weight loss: 1.0 lbs. Total Weight Loss: 19.8 lbs.
Onward and Downward.
Index
---
Day 27 Fat2Fit HCG Diet Blog
Lobster Entree for HCG Diet
---
March 17, 2011
Today's lesson: drink water, lots of water!
I was distracted and did not drink the amount of water I really wanted because I did not want to disrupt this or that activity, interrupt this or that meeting and, frankly, I forgot to put the pitcher of water on my desk that I keep there to make sure I drink enough.
So I was parched all day, drinking the occassional glass of water, but not enough. I drank two big glasses of water before bed at about 3 AM, but woke thirsty. I have been thirsty all day. My lips are chapped! What this tells me is that the biochemical pathways which are involved with the metabolism of fat to energy really do need water. And if you cheat Mother Nature, you will be unhappy, one way or another.
So today, I have been drinking water like there is no hydration tomorrow and glad of it. Well, I won't do that again, I can assure you.
Another interesting thing about this experience: I have not felt strong hunger during the HCG Diet EXCEPT FOR TODAY! It would appear that the satiety mechanism also needs proper hydration to work. I got so hungry at dinner time that I ended a conversation with one of our Trustees in order to go get some food!
Moral of the story:
DO NOT LET YOURSELF GET THIRSTY ON THIS DIET!!!!
Since you are allowed unrestricted amounts of coffee and tea, both dehydrating agents, it is especially important to make sure you are consuming enough water.
The picture in my mind as I write this, by the way, is of all the people who will be here this summer participating in the program that the Trustees of the Natural Solutions Foundation are preparing for those who want to do the HCG Diet here at the Valley of the Moon in beautiful, bountiful, temperate Volcan along with us!
We are looking at a start date for 23 day and 46 day participants of July 11 with a second "class"of 23 day participants coming in on August 3. The second class will finish at the same time as the 46 day participants. We will have classes, discusssion, spectacular food, medical supervision, fun, excursions, massage, yoga, meditation, cooking classes, detoxification personalized fore each person and a host of other elements all combining into a marvellous way to lose weight, gain health and spend some time at the Valley of the Moon!
If you are interested, please write to me at releyes@gmail.com with "HCG DIET" as the subject line and I will correspond wth you about this option.
Oh, yes: today's weight loss of 0.6 lbs brings me to a weight loss of 20.8 lbs. Tomorrow I measure again (that's done every two weeks). My average weight loss since the end of the gorge period has been .9 lbs per day. I will be working to manage my water intake and other factors to see if I can bump it up to 1.0 lbs a day or more. Perhaps not. That, too, is part of the learning curve.
Onward and further downward -- with lots of water!
---
Lobster Entree
---
Index
---
Day 28 Fat2Fit HCG Diet Blog
Egg Salad for HCG Diet
---
March 18, 2011
Öh, Well! Another Day, Another Dress Size! :)
This morning I was getting dressed to meet with a delegation of people here in Panama who had been poisoned by contaminated pharmaceutical drugs and were looking for treatment for the 25% of the victims who are still alive. This is something that I know how to do since I am trained in Environmental Medicine and I very much want to help these badly injured folks.
Of course, I went looking in my closets for the right attire and found some lovely things that I have not been able to get into for who knows how long.
"Maybe, just maybe!" I said to myself and started trying on clothes which I literally could not even get my arm into, let alone button or zip, when this diet started. After all, I was a size 20 (or more) and these are size 12 garments.
THEY FIT!!! THEY FIT!! THEY FIT!!! YES! That means that I am now a size 12. Today was the day that I am to take my measurements, so I obediently did.
The results:
Bust Start 14 Days 28 Days
Bust 43" 40 3/4" 39
Waist 33 1/2" 32 1/2 29 1/2
Hip 46 1/2" 43 1/2 43"
Inner Thigh 26 1/2" 25 1/2" 23 1/2"
Biceps 14 1/2" 13 3/4" 13 1/2"
My BMI, which startyed at an obese 31.4 is now an overweight 27.3.
This program is working so well, and I am so very pleased with it that I am ready to offer it to others who want to come here and participate in this very special program.
For more information, please click here: http://www.drrima.net/DRN-HCG-Program.php
Our first "Classes" for both 23 and 46 day participants, will begin on July 11. We will have another class of 23 day participants starting on August 3, 2011.
The programs include classes, meditation, yogal, all food and drink (YUMMY!) and multiple therapies which aid in successful weight loss and total health.
By the way, I am not doing those treatments so your results may well be better than mine!
Why are we starting the program on July 11, not just whenever you want to arrive?
Because in order to conduct this HCG Diet program I have to be here at the Natural Solutions Center with you every single day. That means the program cannot conflict with Codex meetings, travel to Panama City or elsewhere, or anything else that might take me away from the Center.
In order to do the HCG Diet program properly, you have to have food available to you every day of the week, of course. Our kitchen is ordinarily closed every Tuesday. For our participants, however, we will open the kitchen 7 days a week for you during that 26 day period.
You'll have a weekly excursion to some wonderful places but your food, your driver, your program, Gail, General Bert and I will all be here for you 7 days a week.
We are looking forward to working with you!
Onward and Downward!
PS: Many of you have written asking if we could do a program for people who are not in residence. At this time, although I would love to be able to work with people who are not in residence here, I simply do not have the time. If you can think of a creative way to be of help to those folks, please mail me at releyes2@gmail.com with HCG DIET as the subject line. - REL
---
Lunch Quiche
---
Day 29 Fat2Fit HCG Diet Blog
Size Ten Outfit
---
March 19, 2100
Good News, Bad News.
Good News first:
1. No hunger today (which is a no shot day)
2. When I got dressed to meet with a delegation of people who need my help (and they really do - they were poisoned with a horrible toxin used to make the drugs they were given cheaper! and about 8,000 of the 10,500 people who were stricken are already dead, while the reamining 2500 (including many children) are dying steadily) I decided that there was an outfit I really wished I could wear. Posted above today's entry is a photo of me in that outfit. Next to the photo is the label of the jacket.
Note the size. it is a Size 10!
Now if that is not good news, I do not know what is!!!!
3. When I begain the HCG Diet I could not get my arms into the jacket (I know because I tried, since I really like the garment), nor could I button the blouse (I tried that, too.) Neither garment was tight or restrictive and I was, I must admit, thrilled with myself all day beause for 29 days I have perservered to such great results.
Bad News:
1. When I got up and weighed myself, I had GAINED 0.6 lbs. I did not consume any additional food or deviate from the HCG Diet protocol in any way except one.
As I was leaving the Natural Solutions Center I realized that I had not consumed my quota for water for the day (I am drinking 96 oz of pure water plus tea and coffee. They are diuretics, of course, so it is important to drink lots of pure water while you are enjoying those beverages. I drank 48 oz of water all at one time and then went home, played my guitar for an hour and went to bed at about 4 AM.
When I woke up in the morning I was really dismayed to see the scale. Then I started to think about it and decided that there was probably no way I could have processed all that water in the 4 hours since I went to bed. I recommend that those who are on this diet get a good, full, night's sleep, unlike yours truly...
I was, of course, cheered by the first-time-in-a-really-long-time wardrobe success, but the weight was a kick in the posterior!
Thus, today, I have been very careful not to repeat that mistake!
By the way, my mail bag, releyes@gmail.com is filled with comments and inquiries from people who want to come to the summer HCG Diet program,
http://www.drrima.net/DRN-HCG-Program.php
.
One of the questions was interesting: a woman asked if there was some reason that the diet here included canteloup, carrots and eggs. Eggs, yes: According to the HCG literature, it is permitted to have eggs as long as you eat two whites for every yolk. My delicious egg salads have been fixed that way.
Carrots, no. The staff sometimes cannot resist the urge to decorate some gorgeous dish with some carrot strings, but the picture of the carrot salad on the HCG diet page is one of the lovely dishes that is NOT on the HCG Diet menu. If you look at the top of the HCG Diet blog you will see that some of the dishes are the ones I am eating and some are dishes that we serve others. They are all organic and all wonderful, but some of them will have to wait for me for another16 days.
Canteloup? No. Too much sugar. Early on, when the kitchen wanted to please me and we were new to this HCG Diet adventure, they would bring me small dishes of wonderful fruits which I ate one time and then began refusing. They learned and so did I: no canteloup.
Other people have asked if they could come down for a week or so of the program and then go home to do the rest. I am not sure that is as good an idea as it sounds, but I am thinking about it and discussing it with the Natural Solutions Center staff. We want to find ways to make this wonderful diet available and affordable. Nonetheless, the
best
way to succeed is to do it here. Do your BMI measurement; if you are like so many other Americans especially, you will find that you are obese. This is not healthy. If you want to become healthy again, you will need to reduce your weight! Serious health concerns, like obesity, require serious commitments to regaining health. Can you commit a month or more of your life to saving your life? I hope so.
Onward and Downward!
---
Day 30 Fat2Fit HCG Diet Blog
Corvina in Tumeric Sauce, HCG
---
Day 30 March 20, 2011
I am learning a great deal through this diet protocol. Not only am I getting peppered with interesting questions about what I am doing, and why, which always is the best way to deepen knowledge, I have also learned a lot along the way and fully anticipate that the experience of this diet will be the best teacher for me so that the folks who come here for this protocol will have a more knowledgeable doctor than they could if I were just reading about it!
For example, I was in a terrific rush 3 days ago to get to the first of several very, very important meetings here at the Valley of the Moon Eco Demonstration Project. No time to waste.
Get the HCG vial out of the refrigerator. Clean the top. Fill the needle. Clean the injection site. Inject the dose. Put the bottle back in the refrigerator. Well, we were doing fine until that last step. I dashed out of my bedrom but the bottle remained on the dresser unti the next morning when I found it, wondered if it were still potent (HCG is a fragile molecule) and shoved it back in the fridge.
The results of the past few days would suggest that it was no longer full strength.
While my comments about too much water without sufficient time to excrete it of the other day are still valid, the real issue, I believe, is that the hormone was not as potent as it had been.
So I discarded it and created a new dose for myself. I also adjusted the dose I am taking based on my medical knowledge and what my body is telling me. Upwards.
There are various thoughts on the amount of HCG which should be used. I am using what my body wants and will adjust doses as necessary for those under my care.
Bodies are not machines and needs change.
There is a group of HCG Purists who are pretty vigorous in their demand that what I do MUST be exactly as the originator of the protocol, Dr. Simeon, described it.
I guess if that worked for me I would be practicing standard allopathic medicine and tellng my patients that there was nothing more I could do for them. Instead, I have chosen to look for better and better options for my patients, my family and my friends. The results are generally spectacular, which is why I consider myself to be a good doctor: my medicine is tailored to the patient, not the name of the disease or the totality of previous wisdom.
The reason that I am telling readers of this HCG Diet blog exactly what I am doing is to get input from multiple sources and sharing what I hope will be useful, perhaps even inspiring, information.
By the time folks get here to start this program on July 11, we'll be ready for you!
No change in weight today, but my clothing is obviously getting larger! ;)
Onward and Downward
---
Day 31 Fat2Fit HCG Diet Blog
Wildcaught Salmon, Organic Potato
---
March 21, 2011
I am really happy to report that we all have the opportunity to learn from my having hit the predicted second-half-of-the-long-protocol plateau! NOT! I knew that it probably would happen, but there is nothing happy about seeing a scale that does not budge! Yes, I knew that it probably would happen to me, but, still.... So, getting on with moving right along, let's go to the email bag.
Many readers of this blog have taken the time to write to me, as I indicated yesterday.
One of them spotted an error on March 14 which I am happy to correct: discussing salt and water, I wrote about GRAMS (g) of salt when, of course, what I intended was to write about Millegrams (mg). Thanks, observant reader! On another matter, all massage is done oil free and is consistent with the requirments of the HCG Diet protocol. No oil is used.
There is a frequent theme to many emails which I think should be resdponded to fully. Many, many people are asking if they can come to the Valley of the Moon for the HCG Diet protocol at a time of their choosing, rather than the start dates we have scheduled for this summer.See:
http://www.drrima.net/DRN-HCG-Program.php
.
The answer comes in 3 parts.
Part 1: Yes, of course you can come on an individual basis to take part in the basic HCG Diet program. That means that you will see me for an intake interview and a brief visit every day along with your injection (which I will administer) all of your meals and beverages and access to the internet (no small thing when you are traveling!). Additional services, such as detoxification, nutrional IVs, etc., are available on an a la cart basis. You can stay for any duration that you choose from 14 days (about the time that it takes most people to lose 10 lbs) to 46 days.
Because of a Codex meeting and trip which General Bert and I need to attend starting on May 9, you can start any program of 14 to 23 days on any day up to April 13. If you want to do an individual 46 day HCG Diet program here you can do so starting any day up to March 21.
Remember, you need to inform us before you come!!!!!
Part 2: Yes, of couse you can come in a group of at least 10 people on the same basis as the above with a significant exception: we will create the same program for your group that you can read about in our July 11 class! All the medical services, detox, entertainment, etc., just as you see it at
http://www.drrima.net/DRN-HCG-Program.php
and at the same cost levels. You can imagine that you need to let us know as soon as possible if you want us to set up the program for your group!!!!
Part 3: If you have special needs or need to discuss the program with me, please write to me at releyes2@gmail.com with HCG Diet as the subject line. Individual program costs: please contact me to discuss your plans.
Today's weight on the plateau: 162 lbs, a change of 0 lbs and 0 oz from yesterday, but a loss of 0.6 lbs from the day before. My total weight loss is 20.4 but my clothing is fitting as if I am actually losing the inches, but not the pounds, that I am working to shed.
That is pretty consistent with what the literature on this diet says about a second half, long protocol plateau.
Onward and Downward!
---
Day 32 Fat2Fit HCG Diet Blog
Three Organic Soups Medley
---
March 22, 2011
Good news! After 3 days at the previouly-unobtainable, but now too-large weight of 162lbs, I was able to drop 1.4 lbs overnight.
That brings my total weight loss to 21.8 lbs and my BMI to 27.1 from a starting poiint of 30.4. This plateau is to be expected, we are told, in the second half of a long (46 day) protocol as the body adjusts the water being retained downward. We took my Weight Loss Chart and turned it into an instructive Bar Graph. You can see both the plateaus and the steady progress.
Dr. Rima Weight Chart - First 32 Days
Well, since I was getting rid of tremendous amounts of water yesterday, I was not surprised to see that this morning the gratifying drop of 1.4 was my reward for not giving up the ship, so to speak.
Now for your questions and concerns: I cannot tell you how many people have written to me asking if we could make the HCG diet program here at the Valley of the Moon more flexibile so that people could come when they want to, stay for the length of time that they need to and fit the Valley of the Moon HCG Diet program into their lives.
The answer is, "YES!"
The Trustees of the Foundation and the Executive Chef of the Valley of the Moon BeyondOrganic(TM) Restaurant and Cafe have decided that we will have several options:
1. Come on your own for the Basic HCG Diet Program which does not have the built in housing, transportation, excursions, included medical treatments, etc, but which offers my direct supervision and 100% BeyondOrganic beverages, food and snacks. You take care of your own transportation and housing (which are not hard to do here) and any additional treatments, consultations, etc., are available a la cart.
2. Come with a group for a total of 10 participants, including you, and we will create an Extended HCG Diet Program for you and your friends which includes therapies, HCG Protocol treatments, excursions, all of your food, of course and, if you wish, housing and transportation.
3. Come on your own or with a group of friends and participate in our already-scheduled summer Extended HCG Diet Programs.
All HCG Diet Protocols are scheduled subject to my availability, since I need to be there to give you the best clinical services possible and will not trust that to a substitute.
As you know, because of the Natural Solutions Foundation's Health Freedom work, General Bert and I often travel to Codex meetings and other international events. HCG Diet Programs will be scheduled around those committments.
For more information, including prices, please check out this link: [LINK TO BE PROVIDED.]
And for answers to your specific questions, please keep emailing me at releyes2@gmail.com.
It is a pleasure to hear from you!
Oh, by the way, did I make it perfectly clear that I am thrilled, absolutely thrilled, with what is happening to my weight, my energy, my sense of well-being and my skill to help others? If not, I am!
Onward and Downward
PS: Many of you have written expressing concerns about sagging, wrinked skin. Although my case study just has one subject in it, me!, so far I have seen nothing but well toned skin of good color and texture all over my body! REL
---
Day 33 Fat2Fit HCG Diet Blog
Shrimp 'n Salad
---
March 23, 2011
I am pretty happy about getting off that plateau, as you can imagine. And, at the same time, I am really delighted that instead of floating through this HCG Diet protocol with uncommon smooth downward trends without any bumps or hicoughs so that when I am working with other people, I have real-time, first hand experience with the ups and the downs of doing this remarkable protocol with clean foods and injected HCG.
On the good days.
To tell the truth, I am perfectly focused on those realities with exactly half of my brain - the left half - when I gain weight or lose nothing. Those days are, quite frankly, tough. My right brain, my emotional self and my ïnner chatter" (yes, like you I have that going on, too) tend to spend a good deal of time yammering on those days. Not a lot of fun.
Like you, I grit my teeth and perservere. Of course, when the scale drops down the next morning to a new low, I am all that much happier.
I really wish that I had the kind of support that people who come here will have: the detox, the lectures, the evening programs, the classes, the medical consultation, the comeraderie.
Of course, I do have the food that you'll have and that is nothing short of stunning!
For more information on the Basic HCG Diet Protocol and the Extended HCG Diet and Health Protocol, please click here -
http://www.drrima.net/DRN-HCG-Program.php
.
And don't forget to write to me at releyes2@gmail.com with your comments, questions and suggestions. You know, we totally revised the program here at the Valley of the Moon Natural Solutions Center in Panama (the cool part, not the hot and sticky part) because of your emails. So thank you for that.
Today's weight: 160.2lbs, weight change: -0.4lbs BMI: 27.1 (BMI of 19-24 is normal).
Onward and Downward!
---
Day 34 Fat2Fit HCG Diet Blog
The Center
---
March 24, 2011
Remember those days when you have to grit your teth and just perservere? I am obviously holding on to water (just as the literature predicts that you do, especailly in the second half of the long protocol) so, despite perfect adherence to the diet (not one morsel off diet in all this time - and that's not hard since the food here is so delicious and there are no real cravings or sensations of hunger), I weighed 0.4 lbs more this morning than I did yesterday.
I know from experience, however, that it will correct. The previous times when this happened I lost 1.6 lbs the next day and 1.0 lbs the following time.
My experience base, always a powerful guide, is telling me that this really is the necessary process that my body needs to go through in adjusting to the metabolic processes involved in using my accumulated fat stores for energy and that we really are on track despite the fluctuations in scale readings.
If you look at the graph at the head of the HCG Diet blog, you will see that the large dips between days 17 and 18, 25 and 26 and 30 and 31 are indications that once the body has emptied out the easiest deposits to "get at" so to speak, then the harder ones are being accessed.
I am not sure of this, but I speculate that the longer fat cells have stored their contents, the harder it is to empty them out. What that implies to me is that the older fat stores probably contain more stored fat soluble toxins, which the body resists putting back into the general circulation.
That is one of the many excellent reasons for adhereing strictly to a toxin-free food intake and drinking PLENTY of clean water, along with the exclent diuretics, toxin-free coffee and toxin-free tea. That's also why we have masage and our far infrared sauna available.
Lots of water simply makes it easier for both detoxification and elimination of those toxins to take place.
Here at the Valley of the Moon, our HCG Diet and Health Extended Program Participants will have an ongoing detoxification program to assist them.
The HCG Diet Basic Program participants will, in essence, do what I am doing now: HCG shots, Medical oversight (mine) and the cleanest of clean food, magnificently prepared.
For more information on the HCG Diet and Health Programs available at the Natural Solutions Center here in Volcan, Panama, please visit the program schedule and costs page,
http://www.drrima.net/DRN-HCG-Program.php
.
Our Online Program Brochure can be read and printed when you CLICK HERE (opens new window).
Onward and Downward!
Index
---
Day 35 Fat2Fit HCG Diet Blog
2007 "Too Small" Box
Box contents...
---
March 25, 2011
My weight today: 159.8 lbs Total weight lost: 22.6 lbs BMI: 27.0
Lots of good news today!
First, if you have a diagnosis from your doctor which is weight related (what that pretty much means is that your Doctor has suggested you lose weight and written it down along with a diagnosis of most things), the IRS, YES! THE IRS! says that many of your uninsured expenses for the prescribed diet could be tax deductible. Please check with your tax adviser.
That is, you have to admit, really exciting for those of you who want to join me here in Panama to experience this marvellous way of going from Fat to Fit!
Second, I am delighted to say that I broke the 160 barrier today! For 3 days (which emotionally felt like a month), I bounced around without getting below that mark: 160.6, 160.2, 160.6. Then, this morning, HooRah! Not below it by much, but below 160!
Third, at the top of today's blast entry you will note two photos. The first is a box of clothing indicating that it is mine (REL is my initials) and that it is all too small for me to wear. I moved with General Bert to Thailand in 2007 and they were all too small for me then. You can see the opened box with its contents - pants, skirts, and a lovely Size 10 jumpsuit. Well, today I tried them all on. About 60% of them are perfect and the other 40% I can actually get into and button or zip. They are a bit too snug to be comfortable in but I am still on my way down! I hung them up with quite a lot of pleasure about the whole thing. Oh, yes, although many of the Size 10s are a great fit, the Size 8s are still too small, for the time being...
Today the Trustees of the Natural Solutions Foundation have been working on two related projects. The first is an ebrochure at :
http://tinyurl.com/DrRimaHCGDiet
with quite a lot of detail about the HCG program at the Natural Solutions Center and the second is a tri-fold brochure which you will be able to download and print.
You know, I really expected to be miserable on this diet but to grit my teeth and get through it. Instead, I feel wonderful, look and feel better and better and feel empowered to help others succeed, too.!
I really am loving this! Onward and Downward!
Index
---
Day 36 Fat2Fit HCG Diet Blog
Chicken Lettuce Rollups HCG
---
March 26, 2011
Small loss on the scale, big change in the way my clothes fit. The scale this morning showed a my weight as 159.6 (-0.2 lbs, which is not much) but when I put on the clothing that I decided to wear to the special invitation only "do" this morning that the Ministry of Agriculture invited us to, I was astonished by the changes in my body.
So I have to assume that the fat is making its way out, but the water to metabolize it is hanging around. I actually have holes in the long-term fat stores that indicate that they are really, truly being metabolized away. It's sort of like being a carpet rooting for the moths! :)
That leads me to remind you that drinking plenty of water -- clean water -- is a MUST on this diet!
You know what my greatest regret is? That I did not do this, what? a decade ago? What was I [not] THINKING?!?!?!
Resources: On Line HCG Diet Brochure:
http://tinyurl.com/DrRimaHCGDiet
Information abut the Valley of the Moon and the Natural Solutions Center (a.k.a. "The Dr. Rima Institute"):
www.MyValleyoftheMoon.org
www.DrRima.net
www.NaturalSolutionsFoundation.org
PS: Oh, yes, one more data bit: Today's BMI is 27.0. Onward and Downward, indeed! REL
---
Day 37 Fat2Fit HCG Diet Blog
Chicken Kabab HCG
---
March 27, 2011
Today I gained 0.4 lbs. Here are the factors I think may have impacted that wrong directional turn:
1. Yesterday, a no-shot day, I had to be 1 hour away at 9 AM. The invitational event from the Panamanian Department of Agriculture was, I thought, an hour long. Nope. It was a full day event. I had not brought any food with me and I did get uncomfortably hungry as the day dragged on. Food was served and I picked out small pieces of roasted protein with as little fat as I could manage. There was nothing even remotely resembling a vegetable in the hall, so I simply had some hunks of protein with as much of the fat removed as I could manage.
Wrong! The HCG Diet requires a balanced meal at every meal: fiber in veggies, protein prepared with all visible fat removed (which this most certainly was not!).
I strongly suspect that had it not been a no-shot day, the need to eat would have been much more meaningful to me! But since it was visibly not prepared that way, I did the best I could. It was not good enough, as today's results may show! Further evidence, if any more needed, that this diet is most successful in a carefully controlled food environment!
2. I am simultaneously running another experiment with an all-natural compound of cyclic AMP, B Vitamins and other natural nutrients (compounded for me in small quantities which are preservative-free). I have added it to my personal regimen on Day 31 (I lost 1.4 lbs on Day 32), Day 34 (I lost 0.8lbs on Day 35) and yesterday, Day 35 (I gained 0.4 lbs today). Does this compound lead to additional weight loss, mitigate what might have been a greater weight loss, have no effect at all or increase weight? I do not know. IF it does increase weight loss, I will use it with those people for whom it is appropriate. If not, I will abandon it as part of this protocol. Right now I have only 3 data points and that is not enough to conclude anything from yet. I will keep you posted.
3. I was buttering a slice of hot, homemade BeyondOrganic™ gluten-free bread for Gen. Bert because he was doing something else at the time and got a little of the butter on my fingers. Our butter is extraordinary and, without thinking, I licked my fingers. Now according to what is written about this diet, the metabolic transition from fat stores to energy source is so fragile that you can disrupt it with so slight a transgression. Is that what happened? I do not know, but I am watching for more data to present itself.
I am using an "approved" skin lotion after showering and permitted cosmetics (I hardly use any anyway).
By the way, if you are interested in coming to the Valley of the Moon here in Panama for the HCG Diet Programs, please take a look at our online Brochure:
http://tinyurl.com/DrRimaHCGDiet
.
You know, it would probably be better on a marketing and Public Relations basis if my weight were just going down, down, down. The reality is that I see my responsibility as finding out
everything
I can about how this diet works and what gets in the way of success. Unlike Big Pharam which considered public experience with its dangerous drugs as the "fourth stage" clinical trial, I want to understand what really happens in a true clinical setting before offering this diet protocol to you.
That's what I am doing and, as I told you, this blog gives you a picture of my HCG Diet experience win, lose or draw. So far, big win!
Onward and Downward...
---
Day 38 Fat2Fit HCG Diet Blog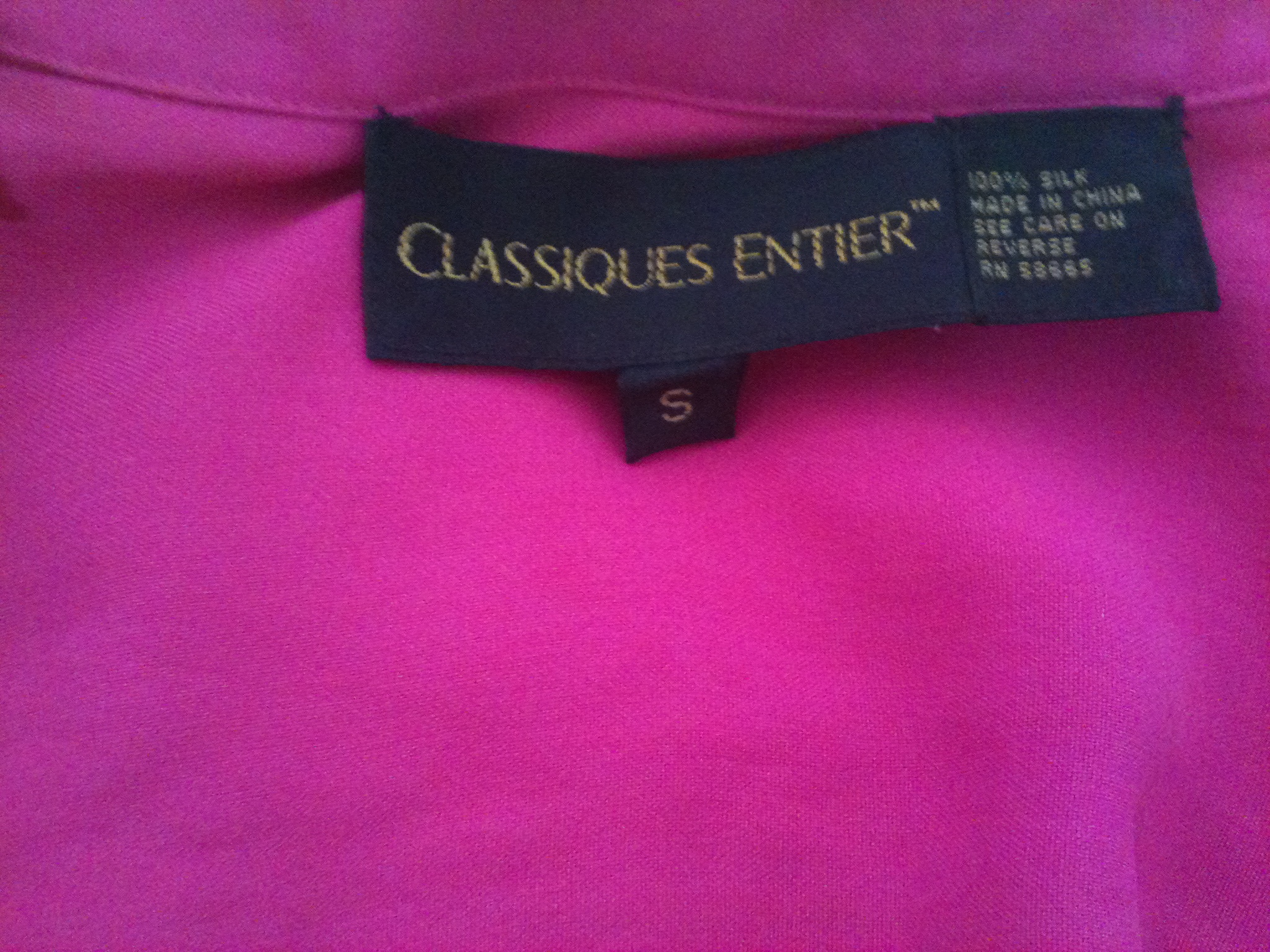 Dr. Rima's Size Small Blouse
Dr. Rima and Blouse
---
March 28, 2011
My lowest weight on this diet has been 159.6lbs and I reached it today - again.
But, in the immortal focus point of Dr. Simeon, the man who developed this marvellous diet back in the 50's, "Pounds and Inches". Pounds are, I have to presume, a matter of weight reduction through fat buring vs water required and retained in the process. But inches, ah, now! That's another matter. That's where you see the results.
If you look at the photos which accompany today's blog entry, you will see a clothing label on a fuscia shirt.
It is a
Small
!
Now, you could say, I could pretend that this shirt fits me now when it really does not. But the next photo is of me wearing the self same shirt - with plenty of room to spare.
This diet works for me and I am quite certain that it will work for anyone who is careful to adhere to the diet in a rational and thoughtful way.
I guess prudence would have dictated waiting until I had finished the entire 46 day-long protocol before deciding to offer a variety of HCG programs under my supervision. And perhaps some people could have restrained their enthusiasm that long.
By the time I had completed the hunger-free, deprivation-free, toxic waste dump feeling-free, 23 day protocol, I could not wait.
I thought we would do it one way, but your very, very helpful emails made it clear that you had other ideas. That is fantastic. So we designed a program here in Panama which can go from 14 to 46 days, from a Basic program to an Extended one.
All of them involve my clinical supervision and administration of your HCG. When you are here, I will be here. No question about that. Of course, that means that the availability of the program, which is on a strict space-available basis anyway, is dependent on my Codex and other schedule committments.
Folks are welcome, by the way, to bring their own groups for either the Basic or Extended programs.
For more detail on what they are and how they work, please visit http://tinyurl.com/DrRimaHCGDiet
Please check with your tax advisor: Expenses incurred in the HCG Diet program, including your transportation, may be tax deductible if you have a diagnosis from a physician which is weight related.
Now how cool is that!
Onward and Downward
---
Day 39 Fat2Fit HCG Diet Blog
EggWhite & Onion Omlet HCG
---
Day 39 March 29, 2011
Weight today, moving in right direction, 159.4, a loss of 0.2lbs. BMI = 26.9, Total loss: 23.0 lbs.
Now that's good and bad. Of course, it is good because it is in the right direction. It is [realively] bad because it is not a big weight drop.
However, I THINK I know why.
I added a reported weight loss accelerator made of natural vitamins and other compounds found in the body to see if it would help the process along.
The answer appears to be "No". The results are inconsistent so until I figure out what might make this a valuable addition to a weight loss regimen, I will not be using it for myself or others.
Since it is natural, preservative free and biologically compatable with everything going on in my body, I thought it might speed things along.
I started using it on Day 24, which happens to be when my weight loss slowed down, in some cases stagnated and in some cases reversed itself.
I gave it long enough to make sure that I could see a pattern and now I am sure: not worth it, does not help, not going to use it again for myself on this protocol and won't offer it to you.
So now, with a total weight loss of "just" 23 lbs in the 30 days of weight loss on the HCG Diet Protocol and a startling drop from a size 20 to a size 10/12 in that time, I think I will just finish the HCG Diet Protocol as recommended.
Maybe.
IF I can restrain myself from trying to make things better.
You see, in my medical practice I always want to find a better, faster, more profound, cheaper and more comfortable way to do everything (in my life, too, I guess, or I would not have co-founded the Natural Solutions Foundation, nor established the Valley of the Moon Eco Demonstration Project in Panama!
In other words, I am out there looking for the miraculous for each patient.
OK. This nutritional supplement is not it, at least not with HCG on board. Cool. Moving on!
Onward and Downward
---
Day 40 Fat2Fit HCG Diet Blog
Lobster Salad HCG
Day 40 March 30, 2011
If you have ever been fat, and hated it, and then walked the path to thin, and loved it, you will relate to what I am about to write (male or female, the essence is the same but the details will, of course, differ!)
So there's this lovely white blouse hanging in my closet since I moved to Panama which I think is beautiful. Every couple of months I would try it on and sigh it off. Not a chance. It made me more determined than ever to get my metabolism under control and more dispirited than ever that my best efforts had not already done that.
Well, today I decided - with some trepidation - to try again. You know the end of this story: it fit and fit very well. So did the pants I decided it would look very elegant with. Why, I could have worn a belt [if I could have located one, that is!] It has been so long since a belt would have looked nice that I have no idea where a single one is. But today, it would have actually looked quite nice if I had added a belt.
Add to TO DO List: Find belts!
Are there more important things in the world? Yes, of course. Health freedom, Clean Food, Controlling the mad men at the helm. My struggle and yours for excellent health, however, is a personal one which must include safe, natural strategies for regaining and maintaing our health.
After all, the money is in having us sick. The power is in having each of us alive, well, and taking back our power while we kick some serious posterior and take a whole lot of names.
That is what we do at the Natural Solutions Foundation, the Natural Solutions Foundation Eco Demonstration Project in Panama and in your computer when you take action and disseminate those actions.
Oh, one final word for today: yesterday we went to the Natural Solutions Foundation's Coffee Farm where we grow the exemplary Valley of the Moon Coffee (www.ValleyoftheMoonCoffee.org) AND we went to another coffee farm as well.
You may know that coffee typically grows on VERY steep hills without roads. Well, we clambered all over those two fincas for hours and hours and hours and hours. I remember what that has been like packing what felt like a ton of blubber: breathless, challenging and very, very unpleasant.
Yesterday I was, I admit, hot and sticky. But I was not breathless, or challenged. I was hopping over those hills like a mountain goat. That's a very, very good feeling!
By the way, you will want to listen to the Dr. Rima Reports this Sunday at 10 AM to 1 PM Eastern at
www.HealthFreedomPortal.org
. Our guest will be Meyer Eisenstein, MD, JD, MPH, who has lost over 100 lbs with HCG! Our main subject will be the absurdity and unscientific reality of vaccines, but I am positive that HCG will come up!
Onward and Downward
---
Day 41 Fat2Fit HCG Diet Blog
Orange Crab Salad HCG
March 31, 2011
Day 41 March 31, 2011
I went with General Bert to look at two pieces of land on which to put our Eco Demonstration Project Phase III, complete with homes, Medical Center, BeyondOrganic(TM) Farm and Farm School, Seminar Center, Performing Arts Center, etc., here in Panama (
www.NaturalSolutionsFoundation.org
) and I put on hiking shoes , a shirt that can get messed up without my worrying about it and my size 20 blue jeans. They are the only ones I can find since I have been unable to fit into any others I own for a long time.
I was in a huge hurry so I forgot to put on a belt. They were, I am really happy to tell you, falling off my body, sliding over my hips, and generally being a huge nuisence while I trudged all over creation. (Nice land, by the way: it's a real possibility for the Foundation's new home)
I felt like a "homeboy" with my trousers down around my knees!
So I got home and, since I do not go to work in jeans and hiking boots, I went into my house to change clothes. Now comes the REALLY, REALLY good part: I COULD NOT FIND A PAIR OF BLACK PANTS THAT FIT ME! ALL OF THEM WERE FALLING OFF MY BODY! YES!!!
Of course, it slowed me down so that I was even later for my meeting, but, hey! what an
Tomorrow is the day I am supposed to take my measurements but I could not restrain myself this morning!
So here are the measurements I started with and the ones I took today. If there is any change tomorrow, of course, I will be sure to let you know, but it is reasonable to assume that my measurements today are about the same as they will be tomorrow.
Bust: I started at 43", today I measure 37" for a loss of 6"
Waist: I started at 33.5", today I measure 27" for a loss of 6.5"
Hip: I started at 46.5", today I measure 41.5" for a loss of 5"
Stomach: I started at 49.5", today I measure 41" for a loss of 8.5"
Inner Thigh: I started at 25.5", today I measure 22.5" for a loss of 3"
Upper Thigh: I started at 26.5", today I measure 22.5" for a loss of 4"
Biceps: I started at 14.5", today I measure 12.5" for a loss of 2"
Total inches lost: 32 or .78" lost from somewhere, on average, every single day!
You may recall that I have gone from a size 20 to a size 10/12 with that change in body weight and girth. My BMI has dropped like a stone from 31.4 to 26.8 today.
But my absolute weight has not dropped as I anticipated and expected it to. I started at 182.4 and have lost "only" 24lbs -- certainly not bad, but not as good as I had hoped.
I think I know why: I was losing 1 lb per day for 19 days, on average. Then I added the all-natural, preservative-free mitochondrial metabolic rate enhancer I mentioned earlier. At that point my weight loss slowed to a crawl and then a creep. I used the metabolic nutrients (no drugs, of course!) 6 times and found that each time, for several days afterwards, my weight loss stagnated - or worse!
So here is what I can conclude about this very public experiment:
1. This combination of nutrients does not speed weight loss on the HCG Diet
2. It does not prevent body mass adjustment while on the HCG Diet
3. I will not use it again for myself or a patient on the HCG Diet
4. I do not know if it adds anything to the weight loss of a patient who is NOT on the HCG Diet
5. I am so thrilled with the HCG Diet results that I probably will make it the core of my body mass and metabolic treatments for any patient who is overweight for any reason
Since I did not lose all of the weight I had intended to lose on this diet I will continue the protocol using other forms of HCG to see what happens. To that end, I am securing sublingual drops to see what happens next!
There will be a break in the protocol since I am in Panama and it takes a while to get things here that could arrive overnight or second day in the US.
During the interval, however, I will follow the HCG Diet Phase III program, starting on April 7, the day after I finish this protocol.
After Day 46 I'll continue to post occassional updates to this blog, keeping you informed of the all-important maintenance phase!
And please let me know when you are thinking of coming to the beautiful, bountiful Eternal Spring Highlands of Panama to join me here at the Valley of the Moon for our wonderful cuisine and for either the HCG Diet Basic Program or the Extended HCG Diet Program.
Options range from 14 days (if you want to lose 10-12 lbs, ladies, or double that for men) or longer.
Our online brochure can be found here:
http://tinyurl.com/DrRimaHCGDiet.
.
Onward and Downward!
---
Day 42 Fat2Fit HCG Diet Blog
Fish Entree HCG
---
April 1, 2011
Lost a pound! Lost a pound
Weight today: 157.5, Total Weight Loss: 25lbs, BMI 26.6
Today I opened two boxes of clothes that were in storage forever. It's a very nice feeling regaining my body, I can tell you. I discovered that I was a size 6 at some point (which I had forgotten!) and that I must have spent some considerable time as a size 8, too.
But right now, I am that size 10 in most things, occassionally a 12 on the bottom since I have always been built "round in the beam" that I anticipated being.
My plans? I am torn between another experiment and huing to the protocol.
You see, I have another 33 lbs to go to get to my ideal weight from a health perspective.
I am thrilled to be where I am, of course, but know that we are not, as the old story of the girl out on a date with a notorious cad, goes when she says to him as the date is winding down, "You know, everyone warned me off dating you because you have such a terrible reputation for bad behavior with women, yet you've acted like a perfect gentleman!" He smiles a wicked smile and says, "You ain't home yet!", I ain't home yet!
So do I 1. Take a break as the original protocol requires after a 46 day protocol (which I will complete in a couple of days, 2. Continue on with the shots to lose weight until I develop insensitivity to the injections and then switch to the sublingual drops if that happens, 3. Switch to the sublingual drops at the end of the protocol?
I would love to hear from you if you have experience with any of those choices. Please write to me at releyes2@gmail.com with HCG Diet as the subject.
Thanks!
Onward and Downward!
---
Day 43 Fat2Fit HCG Diet Blog
Garlic Shrimp HCG
---
April 2, 2011
You know, when you consider the brevity of 46 days from the back of it, why, it's no time at all. Looking at it from the front end, however, it really did seem as if it would go on forever.
But now, at the end of 43 out of 46 days, here are my thoughts:
1. WOW! This sure went by in a hurry! I cannot believe how rapidly the time has flown by.
2. WOW! The depriviation and toxic feelings I was anticipating with dread simply never took place. Not once did I! feel as if I were missing anyting because I was eating my carefully controlled, and marvellously prepared diet. That, of course, while the wonderful gourmet restaurant here was baking and sauteeing and braising and roasting for everyone else - and all the wonderful smells waft through my window all the time. I thought it was going to be a torture. I honestly have been able to appreciate the glorious odors without being hungry, angry, needy or tormented. THAT was a surprise since I love food and appreciate food artistry - of which tere is an abundance here at the Valley of the Moon Restaurant and Cafe
3. WOW! I went from a size 20 (struggling to fit in, I might add) to a size 10 with plenty of room!
4. WOW! I am thrilled by the results of the HCG Diet and regret only that I was so slow getting to it before since I really, really disliked my body for quite a while now.
5. WOW! My taste in clothing has not changed at all over the entire time I was collecting wardrobes of various sizes, meaning that I am delighted by the well-selected, wearable closets of yesteryear which I am now enjoying without a penny of extra expense!
6. WOW! I now feel confident that those who come to me for help and guidance in this diet will have a knowledgeable, sympathetic and personally experienced doctor to guide them and a phenominal restaurant in the cool, delightful Highlands of Panama to make their trip and their medical course a success! That was, after all, the whole point of not only doing it myself (I needed it for my purposes), but of making my experience public - that that people would know just whom they would be working with!
7. DRAT! I was too curious and played around with the mitochondrial stimulant mix of nutrients which I thought might accellerate my weight loss beyond the 1 lb per day average I was running up utnil Day 24 when I added it to my regimen. Instead, it slowed my weight loss to a creepy-crawly 0.3 lbs per day until I got enough dayta points to drop the whole idea 4 days ago. In those 4 days, however, my weight loss has been going back up to the pre-experiment within an experiment levels.
8. To HCG or Not to HCG? I am very close to being finished with the HCG 46 day diet protocol. I need to decide if I take the recommended break or go for more HCG to lose the remaining 32.2 lbs without waiting. What to do, what to do?
I am dithering at the moment.
I'll let you know.
Onward and Downward!
---
Day 44 Fat2Fit HCG Diet Blog
Egg Salad HCG
---
April 3, 2011
Total Weight Loss: 25.8 lbs
BMI: 26.5
On Day 46 I will switch to maintenance, rather than continue with more HCG. Why? Because on sober reflection, and during a long call with Mayer Eisenstein, MD, the following information about what guarantees successful weight loss on this protocol became very clear:
Rather than continue to introduce the HCG to drive the body weight lower, since I have had what apparently is a whole lot more satisfactory weight loss, in real time, on the ground, in the real world, with real bodies, than the theoretical pound a day no matter what rate the literature indicates, it is time to stop and give the body (mine, in this case) a chance to stabilize its gains (which means, of course, its losses) and then go back on HCG if and when I decide to lose more weight.
Dr. Eisenstein tells me that the
secret
of maintaining and being able to cycle on HCG successfully again (and, if needed, again as many times as necessary), is to lose some, no matter what, on the protocol and THEN MAINTAIN THE LOSS.
How? By careful intake control which eliminates
all
grain and sugar carbs. Some high-quality fat/oil on the maintenance program is fine. Lots of veggies and good supplies of protein, but zero added starch and sugar carbs.
Then, after a suitable resting period, back on the HCG starting with a gorge program and the chosen length and dose.
Works for me.
As part of our discussion, Dr. Eisenstein, Ralph Fucetola JD and I talked about the HCG Diet program here at the Valley of the Moon. Over and over Dr. Eisenstein said, "You've got it all there! The gourmet food program, the detox, the supervision, the cooking classes, the yoga ... You've got it all!"
If you want to join me here at the Valley of the Moon for either the Basic or the Extended HCG Diet Program, click here for our online brochure:
http://tinyurl.com/DrRimaHCGDiet
And if you want more information about groups, availability, etc., please feel free to contact me at releyes2@gmail.com with HCG as the subject line.
You know, all in all, this has been a tremendous experience! I have learned a huge amount and am looking forward to sharing it. After the next two days, of course!
Onward and Downward!
PS - Just who is Dr. Eisenstein? He is the dean of the natural pediatrician physicians; twenty thousand at-home births in forty years; up to 60,000 unvaccinated children in his practice (autism rate never exceeded 1 in 10,000 -- how many "standard-vaccine" pediatricians can say that? None!). Dr. Eisenstein was overweight and has also experimented with the HCG protocol on himself and staff, with decent results.
---
Day 45 Fat2Fit HCG Diet Blog
Lobster Tumeric HCG
---
April 4, 2011
One day short of completion of the 46 day protocol I believe it is fair to say that this has been the most wonderful diet of my life. I have lost 26.0 lbs as of today (What will the morrow bring? We shall surely see!), gone from a bursting at the seams 20 to a lots-of-room 10, lost more than 31" total girth reduction of bust, waist, hips, stomach, inner thigh and bicpets, felt NO discomfort or deprivation, mood alteration or toxic effects at all.
Best of all, perhaps, I have no doubt that my body's own healthiest mechanisms have been evoked to bring about these changes, the first, I believe firmly, of the full reclaimation of a body composition that supports my health, longevity and well-being. And, of course, that was without drugs! Just a natural hormone supplement.
The kitchen here at the Valley of the Moon is ready for all comers, whether in the Basic Program or the Extended one. Our organic food is nothing short of spectacular and the environment is beautiful.
I had Lobster Turmeric tonight, with onions. How's that for privation, eh?
With one more day to go on this protocol, I know what the answer for me is if anyone asks if the diet works,
"YES, IF....
IF the food is outstanding and tightly controlled, organic and balanced,
IF the fluctuations in weight are carefully monitored and evaluated by someone who knows the person, the physiology and the food intake,
IF, the person is cooperating with the program and
IF the person really wants to work with it. Then, yes, the HCG Diet works - and magnificently!"
One gains for the first 4 days on the gorge phase. So it is fair to say that I have lost 26lbs in 40 days for an average of .65lbs per day.
If you want to join me for the maintenance blog, please stay tuned; I will be posting that on a new page at the Dr. Rima Network, perhaps even most days:
http://www.drrima.net/HCG-Diet-Blog-Continued.php
If you want to join me here at the Valley of the Moon Eco Demonstration Project, please visit our online site,
www.NaturalSolutionsFoundation.org
If you want to experience the HCG Diet yourself, or recommend it to a friend, co-worker or relative, our Program Brochure is at:
http://tinyurl.com/DrRimaHCGDiet
If you want to learn more about the facility, click here:
www.MyValleyoftheMoon.org
.
Questions? Write to me directly at releyes2@gmail.com.
If you are overweight, if you need to lose flab and go from fat to fit, please do yourself a favor and do the HCG Diet in the most supportive, stable and consistent environment you can manage! Here at the Valley of the Moon...
If you want to know more about the Natural Solutions Center in Volcan, Panama, please click here:
www.DrRima.net
.
Onward and Downward!
---
Day 46 Fat2Fit HCG Diet Blog
Morning at the Center...
---
April 5, 2011
Today is the last day of my initial 46 day HCG Diet protocol.
If you have been working this diet along with me by reading the blog, you know that I was debating whether to stay on the hormone treatments or not because all was going so well, but the information that I had on the HCG Diet was that one should stop here, maintain and then go back for more rounds as needed.
After speaking with Dr. Mayer Eisenstein I decided to do just that although I still want to lose a bit more than double what I have already lost, that is, 27 lbs.
But, surprise! My body has begun to tell me that I have done quite enough of this for now, not for always, but for now! How? By getting light headed and woozy for brief periods in the AM. I do not have these episodes ordinarily and they are so far out of the ordinariy that I have to pay attention to them. This AM, as I walked out to car to go visit our exquisite coffee finca, that is just how I felt: dizzy and light headed.
I knew, without having to be told, that this is a blood sugar issue: that the metabolic protection against that condition which the HCG conveys was no longer in place, although the weight loss part is and that it meant that I was through with this protocol now - not forever, but now. Well, well! As it happens, we are talking about day 46 of 46!
You know the saying: :"You can't fire me! I quit!" So, quit I do, on a high note and a low weight!
27.0 lbs lost, BMI 26.4, down from an Obese 31.4, more than 31" lost, down from a Size 20 to a Size 10 with nary a moment of discomfort.
I will continue my maintenece program for a minimum of 3 weeks and will then do another "round" to finish losing that final 31 lbs, or as much of it as I can in that round. If needed, I will repete the process to lose any remaining weight and maintain it.
So I will see you in a week on this blog to let you know how I am doing on Phase III in maintaining my weight and then, in a few weeks, it will be back to the HCG Diet.
Meanwhile I will be posting occasional updates here:
http://www.drrima.net/HCG-Diet-Blog-Continued.php
I am also looking forward to seeing you in Volcan, Panama for either the Basic or the Extended HCG Diet programs!
Here's the link to read more about those programs.
http://tinyurl.com/DrRimaHCGDiet
.
Any questions, please write to me at relyes2@gmail.com.
Onward and Downward! You bet!
Yours in health and food freedom,
Dr. Rima
---
INFORMATION RESOURCES:
On Line HCG Diet Brochure:
http://tinyurl.com/DrRimaHCGDiet
http://www.drrima.net/DRN-HCG-Program.php
Information abut the Valley of the Moon and the Natural Solutions Center (a.k.a. "The Dr. Rima Institute"):
www.MyValleyoftheMoon.org
www.DrRima.net
www.NaturalSolutionsFoundation.org
The Continuation of this Blog, for the period after the initial program, is here:
http://www.drrima.net/HCG-Diet-Blog-Continue.php
Index
---
Sea Bass
Supporting the Center
Donate to Support the Dr Rima Center in Panama
Donate to Support the Dr Rima Institute at the Natural Solutions Center in Panama
Dr. Rima E. Laibow, MD as Medical Director of the Foundation, has established the Natural Solutions Center in Panama to discover, develop, document, demonstrate and disseminate natural solutions to the health and food issues face us, to achieve and maintain a healthy self, community and world. The Dr. Rima Institute is the detoxification, rejuvination and wellness aspect of the center, just as the Natural Clinical Trials Program is a separate operation at the Center.
Funding is needed to support this specific project, without taking funds from the Natural Solutions Fondation effort to preserve our health and food freedoms by, for example,educating decision makers in the US and globally about such issues as forced vaccination, GMOs, Codex and the like. Therefore we have established a special donation area just for the Center. Please use the PayPal button below to make these special donations. Any amount you can donate is appreciated. Donation receipt for donations over $75.00 are provided with our thanks. To express our thanks to those who can help open the Dr. Rima Institute at the Natural Solutions Center, Valley of the Moon, we offer special gifts.
DONATE HERE
Index
Prepared by: Rima E. Laibow, MD and R Fucetola JD
Copyright 2009, 2010, 2011
-